ENGLEWOOD, Colo. —** As is the case for many people, it's impossible for Broncos players to say cancer has not directly impacted them or someone they know.
Von Miller and Defensive Backs Coach Joe Woods each lost a grandmother to breast cancer. Cody Latimer's father died of colon cancer when Cody was just 12 years old. Shane Ray's aunt was diagnosed with colon cancer when he was in high school. Each of Michael Schofield's grandparents has had some type of cancer, as did an aunt.
Previously, the Broncos participated in the NFL's "A Crucial Catch" breast cancer awareness campaign, and that will continue on Sunday. But this year, as part of the "Fight Like A Bronco" campaign, they are expanding their recognition of survivors to include all types of cancer, and they will broaden their investment in cancer research to other forms. This decision comes in part because of how many types of cancer has impacted the Broncos family both inside the UCHealth Training Center and outside it.
"It's something we've been thinking about for several years," said Cindy Kellogg, Broncos Vice President of Community Development. "I think a couple different reasons went into it. One, we have some members of our own internal Broncos family who have been battling for a couple years now, different forms of cancer. Some of them are two- and three-time survivors. We also dealt with a large part of the community that would call and inquire after our breast cancer awareness games as to why the limited exposure around breast cancer awareness and not being more all-inclusive with other cancer survivors in the community. So, something I think we've needed to do for a while and I'm very, very proud of us for taking a step forward this year."
What that means is that survivors — men, women and children — of many types of cancers will join together at halftime on the field to be recognized for their fights. The pink field stencils for breast cancer awareness will still be there, as well as the pink equipment that will be worn and used by the players, which will later be auctioned off to benefit the American Cancer Society's Community Health Advocates.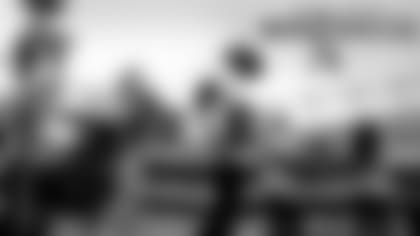 "We have all cancer survivors represented this weekend, not just breast cancer survivors," Kellogg said. "That will be a group of about 125 celebrated cancer survivor guests, who be recognized at our normal halftime ceremony, which typically has been that Crucial Catch pink-out campaign. This year will be in celebration of all cancer survivor types.
"And in so doing, we will make three separate grants this weekend, which is really a fun way for us to launch this program — $20,000 each for breast cancer research through Susan G. Komen Colorado, and then $40,000 split equally to the American Cancer Society that will go for pediatric cancer research and for colorectal screenings among the underserved communities. So [we're] really excited for Broncos Charities to be a part of this launch on the granting side as well." Click the links for more information on "Fight Like A Bronco" and the NFL's "A Crucial Catch" programs.