ENGLEWOOD, Colo. —** Second-round pick Adam Gotsis signed his first NFL contract Wednesday, becoming the penultimate Bronco from the team's 2016 draft class to sign.
As he recovers from his ACL injury from November 2015, Gotsis has participated in offseason program activities and OTAs from a strictly mental aspect, continuing his rehab and taking mental reps from the side of the field.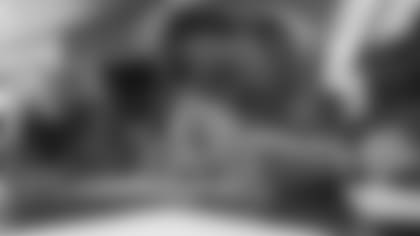 Head Coach Gary Kubiak mentioned Tuesday that Gotsis has also participated in walkthroughs before practice, along with other players recovering from injury.
"We're doing a lot of walkthroughs early in practice. We're doing that for some of the injured players," Kubiak said. "[DE Adam] Gotsis will take [them]. We're doing some things to make sure we have everybody involved and then we go practice."
Though injury prevents Gotsis from being able to adjust as quickly as possible, the expectations are still as as lofty as any draft pick of his status.
"I think he's just like any high-round pick," Defensive Coordinator Wade Phillips said during rookie minicamp. "You expect him to come in and help you this year."
May 12: FB , S Will Parks