Evelyn Grace Spytek had a laugh that could make anyone smile.
"[It] was intoxicating," said John Spytek, a national scout for the Broncos. "I think we always feel like that, but to hear our family and friends talk about her laugh… everybody's smiling. I always appreciate a good laugh but hers was different."
His wife, Kristen, smiles as she remembers taking Evelyn trick-or-treating last Halloween in her owl costume on a perfect fall day in Denver.
"It was absolutely darling and we went for a stroll," said Kristen. "It was an awesome day and the weather was wonderful and she looked adorable in her outfit. It was just very her."
But on Dec. 26, 2014, the Spyteks' world was turned upside down. Just two months after her second Halloween and three months shy of her second birthday, Evelyn passed away from complications due to a CMV-related surgery. 
Cytomegalovirus, or CMV, is very common and is typically harmless to the general population. But CMV can be harmful to babies when infected before birth; this is known as congenital CMV. Typically, congenital CMV affects newborns through primary infection; meaning mothers are infected for the first time during pregnancy.
"[It was] a healthy pregnancy to start, everything was going great - my first baby," Kristen said. "Around 20 weeks at the ultrasound appointment we noticed that something was a little bit wrong – we didn't know what. We thought it was genetic; we went through a series of testing and diagnostic testing and things like that with no diagnosis. Our daughter Evelyn was born at 36 weeks and within two days of life they diagnosed her with congenital CMV."
Kristen and John had never heard of CMV before. It wasn't something that Kristen had learned in any books she read during her pregnancy. The Spyteks were first introduced to the virus through a simple Google search and self-diagnosis after Kristen's ultrasound revealed abnormalities.
"It never came up in literature that I was reading," Kristen said. "It never came up in the doctor's office. I simply Googled something and was trying to self-diagnose a little bit towards the end of the pregnancy and came across this term for the very first time - but never had any conversations with the medical team about this possibility."
According to NationalCMV.org, congenital CMV affects one in every 150 children born each year, adding up to 30,000 children in America in a single year. Of those 30,000, one in every five born with congenital CMV infections will develop permanent health problems. That's roughly 6,000 children with as many as 400 infant deaths annually.
Based on the website's statistics, more children will have disabilities due to congenital CMV than other well-known infections and syndromes, including Downs Syndrome, Fetal Alcohol Syndrome, Spina Bifida, and Pediatric HIV/AIDS.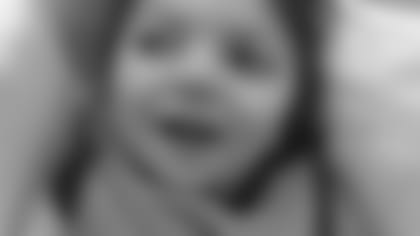 "All this despite the fact that this is the most common viral cause of birth defects and disabilities in this country, [there was] still nothing from the doctors," John said. "The only time we heard about it was when we put some of the soft markers that were showing up on the ultrasounds into Google and it spit out congenital CMV at us."
Congenital CMV can present a host of different issues for newborns including loss of hearing, vision, birth defects and mental disability.
In Evelyn's case, she was born with a smaller head size (microcephaly), was deaf in both ears and needed therapy to help her motor skills and to eat.
"We were devastated," John said. "When you're dealing with a virus that attacks the brain, that's not treatable stuff. That's long lasting. That's permanent. We did what we could."
The Spyteks did everything in their power to make life easier for Evelyn, but last December she passed away at 21 months following a necessary surgery due to CMV.
Then, just three short weeks after Evelyn's death, Kristen and John welcomed their second child; a healthy baby boy named Jack.
"It was borderline impossible. There are really no words for it, to be honest. It was hard," said John of the whirlwind of emotions.
"It was extremely overwhelming," Kristen said. "Coping with the loss of our beautiful daughter unexpectedly and bringing another child into the world was crazy highs and lows of the utmost degree… It was crazy and in a lot of ways our son has helped us. He's helped us navigate what we're trying to do here and what we're trying to accomplish. I think that's allowing us to stay motivated on this mission." 
The Spyteks' mission is to continue growing CMV awareness through a foundation they started, the National CMV Foundation.
John and Kristen decided to start their organization after Evelyn's birth. Stemmed from their frustrations at the lack of cognizance among expecting mothers, the Syptek's launched their foundation and website, NationalCMV.org, in July.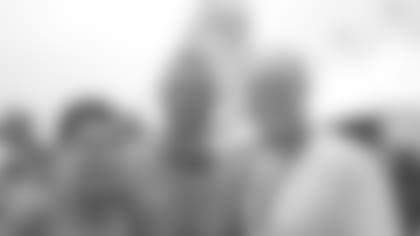 "We had a lot of early talks about [how] we need to do something," John said. "We should have known about this. Maybe it's not preventable, but awareness will help with our cause."
The Spyteks have relied heavily upon grass-roots efforts to help spread awareness and raise funds for their cause. One way they have effectively raised money for the National CMV Foundation is through 'Compete 4 CMV', a series of community-based events.
Just this spring, John's former football teammates at the University of Michigan took part in the OhioHealth Capital City Half Marathon on May 2 in Columbus, Ohio.
"It was really special and lifting to have them do that," John said. "To have [15] former teammates and spouses do something active to support our cause and honor Evelyn is special to us."
Kristen and John's objective for the National CMV Foundation is simple: "Our goal and our vision is really to eradicate congenital CMV, hopefully in the next 30 years," Kristen said. "That is absolutely the vision.
"We just really want to start the conversation so women are going to their doctors offices asking about this, how can they help prevent it now that maybe they have a child that's diagnosed… just to make sure they are actively pursuing the right avenues for their child's growth. Evelyn taught us a ton and we did what we could for her but there is so much more we wish we could have done. I wish we were better informed."
The foundation has not only made them determined to educate mothers, but it has also helped them honor their daughter's memory.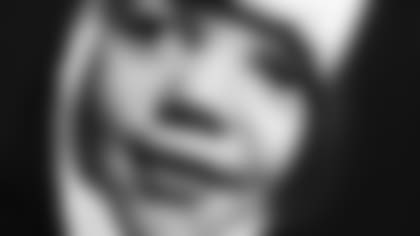 "We both felt since she was born and learned this that if we're ever going to have peace in our hearts over any of this [it would be] because we did something in her name and we changed the narrative and the outcome of it," John said.
The Sypteks' foundation isn't the only good that has come from Evelyn's lasting legacy. The little girl taught her parents more about their perspectives on life how to keep their heads up through even the toughest situations.
"I would say tremendous patience and grace - humility," Kristen said of what Evelyn has taught her. "She dealt with such adverse things that most individuals [don't] have to deal with and she overcame… Watching her do it with a smile and with her calm gracious attitude, it was so eye opening to us. We probably weren't super laid-back people before and now we're amazingly calm in terms of dealing with some of our other life obstacles because it's not challenging compared to what she did."
While her parents remember her laugh and cherish memories like her last Halloween, those aren't the only memories Evelyn has given her parents. Even after her passing, Evelyn has brought friends together for a cause, made her family closer and inspired change.
Through the Spyteks' dedication, Evelyn lives on.