ENGLEWOOD, Colo. —The Broncos' 2022 season has come to an end, and so has the rookie year for the Broncos' most recent draft class.
Three of Denver's nine selections in the 2022 NFL Draft were offensive players, and all three found significant roles in their rookie seasons. While it was an inconsistent year for the Broncos' offense, each of these rookies showed promise for a bright future with the organization.
Read on for a look at the offensive contributors from the Broncos' rookie class:
TE Greg Dulcich
Draft position: No. 80 overall (third round)
After trading tight end Noah Fant to the Seahawks in the offseason, the Broncos sought another elite pass catcher at the position — and they seem to have found one in Greg Dulcich.
The rookie tight end missed seven games this season while dealing with a hamstring injury, but in the 10 games he played, Dulcich's impact was undeniable. He totaled 33 catches for 411 yards and two touchdowns, becoming one of quarterback Russell Wilson's favorite targets. Among rookie tight ends, he ranked second in receiving yards and third in receptions. The only players ahead of him in those categories appeared in six or seven more games this season.
Dulcich noted that while he wished he hadn't been limited by an injury, he was proud of what he was able to accomplish in his first NFL season. 
"Obviously it wasn't ideal, with not playing for seven games because of the hamstring, so that's going to be a big emphasis this offseason, sorting that out," Dulcich said. "But, for the 10 games I played, I'm glad I was able to go in there. I felt like I proved I belong in this league and I can make plays, and my coaches can trust me, and that I can play a role in this offense and help us win games."
If he can stay healthy in 2023, Dulcich is poised to have an extremely productive Year 2. The tight end showed how explosive he can be in the passing game, and with wide receivers Tim Patrick and KJ Hamler set to return, Denver's offense should have no shortage of weapons.
His goal in 2023, Dulcich noted, is to become a more versatile threat in the Broncos' offense.
"I just want to be able to improve every aspect of my game," Dulcich said. "Be a better run blocker, be a better pass catcher and try to be an every-down tight end."
Best moment: In front of his hometown crowd in Week 6, Dulcich caught a touchdown pass in the first NFL game of his career. While the Broncos ultimately fell to the Chargers in overtime, Dulcich got to experience this unforgettable milestone in front of his family and friends.
WR Montrell Washington
Draft position: No. 162 overall (fifth round)
Wide receiver Montrell Washington was Denver's dual returner for the first 15 games of the season, and while he contributed some solid returns, the rookie had five fumbles — one of which resulted in a turnover. In the final two weeks of the season, Interim Head Coach Jerry Rosburg made the decision to have other players return punts and kickoffs.
Washington's first season in the NFL did not go as he had expected, but the wide receiver noted that he will put in the work to come back with improved fundamentals in Year 2.
"[My goal is to] just try and get ready for next year," Washington said. "Come back prepared, know what to look forward to next season and things like that. Just ready to come back and get to work."
While he wished he could have taken the field in the final games, Washington said that the last two weeks have served as motivation for him improve all aspects of his game ahead of the 2023 season.
"It's all motivation," Washington said. "With me not playing, that gave me time to sit down and actually learn from Coach Jerry, understand the returns, understand how to catch the ball, placement, things like that. Just really getting the terminology down of the game, but it's been nothing but motivation."
Best moment: In the Broncos' Week 4 game against the Raiders, Washington returned a first-quarter punt for 30 yards — his longest return of the season and the longest by a Bronco since 2020. This return set Denver up at Las Vegas' 34-yard line, and the Broncos' offense converted that excellent field position into a touchdown.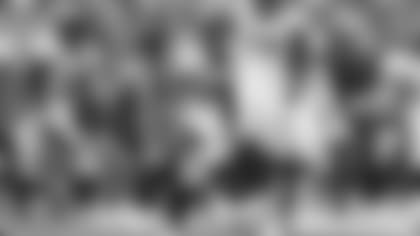 C Luke Wattenberg
Draft position: No. 171 overall (fifth round)
As a rookie, you always have to be prepared for your big moment to come — and with numerous injuries to the Broncos' offensive line, center Luke Wattenberg's moment came in Week 10 against the Titans.
It wasn't a perfect start for Wattenberg, who had some snap issues at center when he first entered the game, but he provided much-needed versatility when several linemen went down with injuries. In 90 snaps this season, the rookie took reps at center, left guard and right guard.
Being called upon in big moments came with a learning curve, Wattenberg said, but it gave him valuable experience that has helped him improve.
"I think some of [those moments] went good and some of them went not so good, but that's kind of what you expect," Wattenberg said. "You go out there and make mistakes, and you learn from them. I went out there and did my best for the team, and you can only be prepared as much as you prepare, so you've just got to be ready at all moments. It's definitely something I learned, is being prepared at every second of every game."
Wattenberg noted that in 2023, his goal is to be able to compete at a high level against some of the elite defensive linemen in the league.
"There's a ton [of areas of improvement] for me," Wattenberg said. "Definitely my technique and being prepared to go against some of those big-time defensive linemen and be able to go in those games and execute. I learned a lot this season, and I think that'll help me next year."
Best moment: In a testament to his versatility across the offensive line, Wattenberg filled in at both right and left guard during the Broncos' Week 15 win over the Cardinals after guard Dalton Risner and offensive lineman Tom Compton suffered injuries. After the game, guard Graham Glasgow praised Wattenberg for being able to step into multiple roles when the team needed him and responding well after a tough stretch to start his rookie season.