ENGLEWOOD, Colo. — Upon the conclusion of the 2022 regular season, the members of the Broncos' 2022 draft class have officially finished their rookie years.
The Broncos added six defensive players in the 2022 NFL Draft, and all six appeared in at least one game this year. For some, this season provided an opportunity to become a starter. For others, it was a chance to develop their skills for the future.
No matter the role, each of these players had a part in building one of the league's elite defenses.
Read on for a look at the defensive contributors from the Broncos' rookie class:
OLB Nik Bonitto
Draft position: No. 64 overall (second round)
Outside linebacker Nik Bonitto's role in his rookie year was not as significant as many expected heading into the season, but when he was given opportunities, the pass rusher showed promise to become an important part of the Broncos' defense moving forward.
The coaching staff noted at several points during the season that while Bonitto's talent was undeniable, there were areas in which he needed to continue to develop. With strong production from outside linebackers Randy Gregory, Baron Browning and, for the first half of the season, Bradley Chubb, much of this work for Bonitto had to come in practice rather than in games.
While the rookie was not a focal point of Denver's defense in 2022, he showed significant growth throughout his first year in the NFL, indicating a bright future ahead for the young outside linebacker.
"[He has grown] in all areas," Defensive Coordinator Ejiro Evero said in November. "First of all, understanding the game. [Outside Linebackers Coach Bert] Watts has done a great job trying to educate him on the NFL. Half the battle is knowing what to expect, so he struggled with his knowledge. He's hitting blocks, playing a different style that he was asked to than in Oklahoma. He's really responded to that, and he continues to get better and better. We're still expecting him to have more growth, obviously, but he's been doing a good job."
Best moment: With Browning and Gregory out with injuries, Bonitto had a major opportunity in the Broncos' Week 8 game against the Jaguars in London — and he made the most of it with a key strip-sack in the third quarter, snuffing out a promising Jacksonville drive. In a one-score game, this proved to be a crucial play to secure the win for Denver.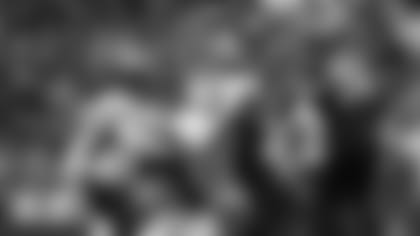 CB Damarri Mathis
Draft position: No. 115 overall (fourth round)
Cornerback Damarri Mathis primarily contributed in a special teams role at the start of the season, but that all changed when cornerback Ronald Darby suffered a season-ending ACL injury in Week 5.
The fourth-round pick suddenly found himself as a starting cornerback on the Broncos' defense, and it took some time for Mathis to settle into the role. In his first game as a starter, the young defensive back drew four pass-interference penalties for 87 yards — but after getting the jitters out, he developed into a reliable starter despite his youth.
"'Marri' — he stepped in at a critical part [of the season]," cornerback Pat Surtain II said in November. "He stepped in a division game, of course, against the Chargers. The main thing with him is he just keeps getting better each and every week. You can tell he's getting more confident in his play. He's playing like it. He's playing fast, aggressive and physical. When he stepped in to fill in that role, we just expected big things from him, and he's proven it so far."
Mathis recorded 65 tackles and seven pass breakups in 2022, holding his own at a position where rookies are often targeted by veteran quarterbacks because of their inexperience. The Broncos boasted one of the top secondaries in the NFL this season, and if Mathis continues to progress, he could become a key player in Denver's defense going forward.
Best moment: Mathis' best play of the season actually occurred in Week 6 against the Chargers — the same game in which he drew four pass-interference penalties. On a fourth-and-2 situation in the fourth quarter, Mathis dove in front of Chargers wide receiver DeAndre Carter to break up quarterback Justin Herbert's pass attempt, forcing a turnover on downs. In Mathis' first-career start, this play was a testament to the rookie's ability to shake off mistakes and focus on the next snap.
DL Eyioma Uwazurike
Draft position: No. 116 overall (fourth round)
Defensive lineman Eyioma Uwazurike appeared in eight games this season, contributing on defense and special teams. The coaching staff praised his talent coming out of college, and with a lot of hard work throughout the season, they saw him flourish.
"'Enyi', coming out of college, was very raw," Evero said in January. "We saw the talent, we loved the talent, and [Defensive Line] Coach [Marcus] Dixon has just done a phenomenal job ... just working with him. He's invested the work, he's put in the time, and you just see the fruits of all that labor. Now he's at a place where he's going to have a chance to have a really great future ahead of him, and it's a credit to his hard work and his coaches helping him out."
Reflecting on the season, Uwazurike noted that he has experienced tremendous growth, and the young defensive lineman credited his teammates and coaching staff to helping him make the transition.
"I definitely grew a lot," Uwazurike said. "It's been a big change for me, but I've started to get the hang of it a lot towards mid-, end of the season. I was prepared because of the guys around me, and really just my coach and myself really buying into everything, and studying, getting myself ready for that moment. I didn't want to disappoint the people around me."
Best moment: At 6-foot-6, Uwazurike adds a unique height advantage whenever he takes the field. In the Broncos' narrow loss to the Chiefs in Week 17, the rookie used his stature to block a 51-yard field goal attempt at the end of the second quarter, keeping it a three-point game at the half.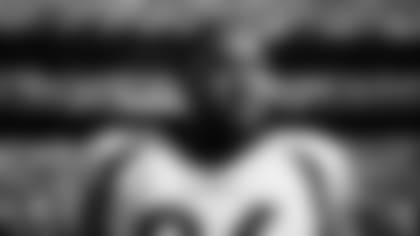 S Delarrin Turner-Yell
Draft position: No. 152 overall (fifth round)
Safety Delarrin Turner-Yell did not see any defensive snaps in his rookie season, but he appeared in 14 games for the Broncos and was a major contributor on special teams.
While he may not have gotten an opportunity with the defense, the rookie made the most of his role as a core special teams player, recovering two fumbles over the course of the season.
Best moment: Turner-Yell made a heads-up play on special teams in the Broncos' Week 12 matchup with the Panthers, recovering running back Raheem Blackshear's muffed punt inside Carolina's 30-yard line.
DE Matt Henningsen
Draft position: No. 206 overall (sixth round)
Defensive end Matt Henningsen was the only rookie to appear in every game for Denver this season, contributing on defense and special teams. Despite being a sixth-round pick, he was a productive member of the Broncos' defensive line and showed promise for a larger role in Year 2.
"I learned a lot throughout the course of this year," Henningsen said. "Obviously, I mean, it's my first year in the league, first year on an NFL team. There are a lot of lessons that come along with that — just the work that you have to put in, the different structure of the team. It's definitely very different from what I had in college."
Henningsen noted that in 2023, one of his primary goals is to affect the quarterback more consistently.
"I suppose, personally, I've got to get better at getting the quarterback," Henningsen said. "Just getting a more diverse pass rush tool box, and just trying to improve on that and be more of a multidimensional player when I'm on the field."
Best moment: Henningsen recorded the first sack of his career in the Broncos' Week 6 game against the Chargers, bringing down quarterback Justin Herbert for a seven-yard loss.
CB Faion Hicks
Draft position: No. 232 overall (seventh round)
Cornerback Faion Hicks spent most of the season on the Broncos' practice squad, but he was elevated in Weeks 12 and 13 and took snaps on special teams.
On Jan. 9, Denver signed Hicks to a future contract.