Denver Broncos players spent their off day at Greenwood Elementary and Maxwell Elementary teaming up with Playworks Colorado and CarMax to bring an extra special treat to recess.
Rookie wide receiver Isaiah McKenzie kicked off recess for students at Greenwood Elementary with a competitive four-square competition, while safety Justin Simmons got his morning workout in playing tag and football with kids.
Safety Will Parks explored the playground and field bouncing from activity to activity with a group of female students following his every step. Parks affectionately called his followers "my girls," and when they weren't learning cheers from the Denver Broncos Cheerleaders they were right by Parks' side playing games and having fun.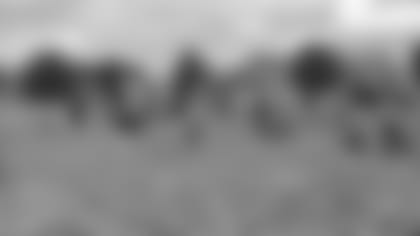 Down the street at Maxwell Elementary, wide receiver Demaryius Thomas spent the afternoon playing magic tag, basketball and four square with students.
"Tag is like miniature cardio. You got a lot of little ones chasing you around or you're chasing them, but it's fun. I'm even sweating on my off day," Thomas said.
"Besides playing on Sundays and going to work with my fellas, this is hands down the best day of the week coming out here to play with the kids."
Playworks provides safe and positive play spaces for students and ensures that every child has a place on the playground. Schools that have Playworks have reported 43 percent less bullying and 43 percent more vigorous activity than schools that don't, according to Executive Director of Playworks Colorado Andrea Woolley.
Denver Broncos partner CarMax helped to provide an extra fun recess for the students with approximately 30 employee volunteers on-site to help run games. Futhermore, CarMax generously donated Broncos Bunch kids club memberships to all fifth graders at both elementary schools in addition to its $2,000 donation to Playworks.