ENGLEWOOD, Colo. -- During the 2013 season, the Broncos scored 183 points in the fourth quarter. According to Head Coach John Fox, the team is now preparing for the "fourth quarter" of the offseason.
"We've had a great attitude, a great mindset," Fox said. "Guys working their tails off so we just finished basically the third quarter of our offseason program. We've got one more quarter left next week so we've got a three day break to recover. Hopefully we can take some time to rest ourselves physically and come back ready for the fourth quarter."
The Broncos completed their mandatory minicamp today and will return to Dove Valley on Monday for the final week of OTAs. Fox said that when he first started in the NFL, players had offseason jobs. Now, the players can truly focus on football and come to offseason training in excellent physical shape.
Just like in a regular game, as the fourth quarter of the offseason begins, there is an increase in competition and intensity.
"When you get to this level, it's very competitive and it's tough for everybody though," Fox said. "Making those decisions [who will play what position], I always tell them, basically they make the decision on how they perform. We just have to kind of watch them perform."
Fox said there is an installation schedule for the team and that it is currently on track. Defensive Coordinator Jack Del Rio said "this is a time of year when people rank how good you are on paper."
Quarterback Peyton Manning noted on Tuesday that even though the season-opener is approximately three months away, the team is focusing on improving as soon as possible. With high participation in OTAs and minicamp, the players have shown their dedication to improve.
"We would like to go a step further this season and use 2013 to learn from the good and the bad and we talk about going out and earning it every day and going out and trying to be better every day and focusing on the now," Manning said. "[Strength and Conditioning Coach] Luke [Richesson] says it all the time, 'When is life happening? Right now.' That's kind of our theme and I think guys have bought into that philosophy and are doing a good job with it."
The Broncos' third quarter ended today. But, the final 15 minutes of the offseason are just the beginning of the Broncos' work.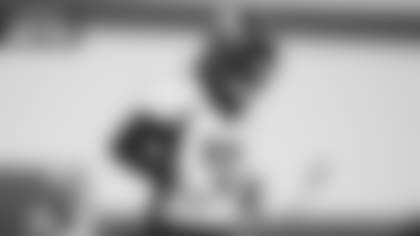 news
Injury Report: WR Jerry Jeudy returns to practice before Week 13 matchup with Texans
Tight end Chris Manhertz (not injury related - rest) and defensive lineman Mike Purcell (not injury related - rest) did not practice on Thursday and were both added to the team's injury report.