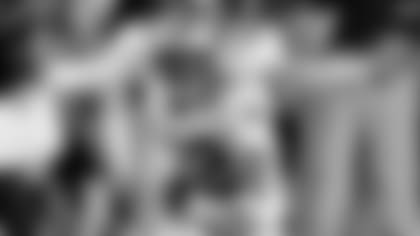 Englewood Colo. - - Earlier this week the Broncos signed a free agent who had been to, and won a Super Bowl. Thursday, they signed another.
Executive Vice President of Football Operations John Elway announced the team agreed to terms with former New Orleans Saints cornerback Tracy Porter. Porter, a fifth-year player who spent the first four years of his career in New Orleans, has appeared in 43 games, including six postseason contests. During Super Bowl XLIV, It was Porter's interception return for a touchdown - thrown by new Denver teammate Peyton Manning - that secured the championship win for the Saints.
Porter has totaled 227 tackles (178 solo), seven interceptions, 37 passes defensed, four forced fumbles and two fumble recoveries during the first four years of his NFL career. He's returned two of those interceptions for touchdowns, including a 74-yard score on his interception of Manning in Super Bowl XLIV.
A second-round selection from Indiana University, Porter started 43 games and recorded 212 tackles, 16 interceptions, two forced fumbles and four fumble recoveries for the Hoosiers.
With the addition of Porter, the Broncos now have eight cornerbacks on the roster -- Champ Bailey, Tony Carter, Andre' Goodman, Chris Harris, Ramzee Robinson, Syd'Quan Thompson and Cassius Vaughn.