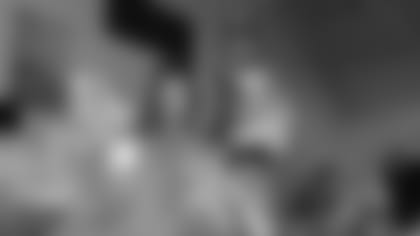 ](http://www.denverbroncos.com/multimedia/photo-gallery/Teammates-Prep-Meals-for-Less-Fortunate-/27ca0e18-6519-4fe4-ac97-6a3212b4cb9b)

DENVER -- With Thanksgiving approaching, several Broncos spent their day off in the kitchen helping to prepare a meal for those less fortunate.
"We have several Broncos here helping us prepare food for our community event at the convention center on Thanksgiving Day," said Captain Grady Brown, who is the divisional secretary for the Denver region of the Salvation Army. "I've served in several cities with a team and they're always happy to be involved. The community loves to see them involved."
The players were happy to be involved and help make a difference in the lives of others.
"You definitely want to give back and do whatever you can to give back to others," Mays said. "We were always taught that if you're ever in a position to help out others, just make sure you do whatever you can. This is something that I really wanted to do and my wife really wanted to do."
Brown said the Salvation Army fed 1,300 people at the event a year ago. He expects those numbers to increase this year as the word gets out about the annual event and the economy continues to suffer.
The group of Broncos were joined by the wives of Kuper, Mays, Ramirez along with Decker's fiancé. Making it a family event was especially important to Ramirez, who also brought his young daughter to volunteer.
"It means a lot just to have an opportunity to come out and be a part of the community and help out when it's possible," he said. "Just having my little daughter here to be able to see this and be a part of this and just know the reason we're here to help. We've never been in a situation like this, but been close to it, so we know it's hard and just want to do whatever it takes to do as much as possible."
Garland and Ramirez teamed up to open hundreds of large cans of green beans and transfer the contents into large pans to be cooked.
Having the ability to positively impact a community that Garland grew up in made the cause especially meaningful to the Grand Junction, Colo., native.
"Being born and raised in Colorado, I love being a part of the Colorado community," Garland said. "Any time you can help out the community, it's literally helping out your neighbors, the people you've lived with your entire life and plan to retire with. I love helping out Colorado any way I can."
Decker and his fiancé prepped the stuffing and helped portion out cranberry sauce for the meal, which will be served from 11:30 a.m. – 1 p.m. MST at the Colorado Convention Center.
"I think helping out around the holiday season is fantastic to allow families to enjoy a great meal with great company and really create a memory," Decker said. "It's something I've been so blessed with throughout my life because I've had family and home-cooked meals and good memories that I cherished growing up."
Kuper tackled the turkey, working through the meat to get rid of any small bones. He also worked to tear the stems off the herbs that would be used for the meal.
"There are people in need," Kuper said. "And any little thing we can do to help out and make the holiday season better is great."