ENGLEWOOD, Colo. — For 4388 Ridgebotics, a Fort Collins-based competitive robotics team with championship dreams, a sponsor was its only hope. The trip to Houston for the FIRST (For Inspiration and Recognition of Science and Technology) Championship seemed to be financially out of reach — that is, until the Denver Broncos and Arrow Electronics stepped in.
The Broncos and Arrow had announced they would work with Colorado FIRST to select a robotics team they could sponsor to help reach the international championship, which hosts teams from 39 countries and takes place from April 19-23. After qualifying for the championship in the regional competition that took place March 24 at the University of Denver, Ridgebotics also received the sponsorship after being identified as a team in need of funding.
"Before the sponsorship, we weren't sure if we were going to go, considering the funding that we had at that time," Ridgebotics' captain Carissa Vos said. "So we were all looking forward to when we heard we could apply for this and potentially get it. ... And once we found out we got it, we were super excited. We've been awaiting this day ever since."
For many members of the team who are also Broncos fans, the funding isn't even the best part. The best part is being able to represent the Broncos.
"I can't even describe it," Vos said. "Once we found out, I was like, 'Oh my gosh, we're going to have the Broncos' logo on the back of our shirts and ... we're going to have the Broncos and Arrow [as] part of our name when they announce our team a couple times throughout the competition.' And we have the jerseys and some pants and hats — that's just super cool, too."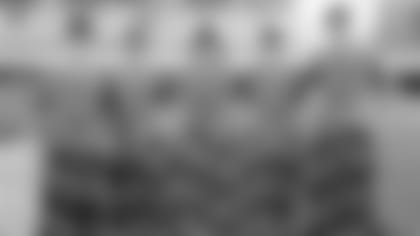 As part of the sponsorship, the Broncos invited Ridgebotics to visit UCHealth Training Center, where they gave the young engineers an opportunity to get an inside look Friday at how the team operates. The Ridgebotics members also received shirts, hats and a pair of Broncos jerseys representing the team name before they were to leave for the four-day competition.
The students were pleasantly surprised the Broncos had a sponsorship for a high-school robotics team, as those on the Ridgebotics team knew they would need some help to get to Houston.
"When it was announced at [FIRST Robotics Competition] Kickoff, that was just really cool to see," Vos said. "And I was like, 'All right, we've got to go for that.'"
Three other Colorado teams joined Ridgebotics in qualifying for the national competition: Longmont's Up A Creek Robotics, Denver's Thomas Jefferson High School and Colorado Springs' Cougars Gone Wild.