ENGLEWOOD, Colo. -- Never has the term "jet sweep" been more apt than with Percy Harvin receiving the handoff. And after Super Bowl XLVIII, it would be understandable if that was a phrase the Broncos did not want to hear again for a while.
Even though it was used twice in last February, it had a devastating effect: 45 yards, one gain of 30 and another of 15. It forced the Broncos to account for Harvin every time he had the football.
And it was something for which the Broncos could not adequately prepare, since he had just five offensive touches as a Seahawk prior to the Super Bowl, having missed all but one regular-season game due to his recovery from hip surgery.
"Last year, in the Super Bowl, he just came in, and we didn't know what we were getting. We were watching Viking film, trying to see what we were going to get," said Broncos defensive tackle Terrance Knighton. "It's a lot of tape now. We've played two games of it already, so we should be prepared.
That extra tape includes two egular-season games in which he participated in 61 snaps. However, it's …
"Just more reasons to have more nightmares at night," said Defensive Coordinator Jack Del Rio. "(The) guy's a good player. We're aware of that. We'll make sure we get a hat on him."
The numbers help illustrate is impact. Through two games, the Seahawks average 2.4 more yards per carry, 1.7 more yards per pass play and 2.0 more yards per play when Harvin is on the field than when he is not. But the offense is also more feast-or-famine, and when Harvin is not on the field, it moves the chains once every 2.14 snaps, compared to once every 3.39 plays with him.
Explosive plays are the key, and none has been more consistently effective than the jet sweep -- or its sibling, the shotgun-based fly sweep, which has been used the last two weeks.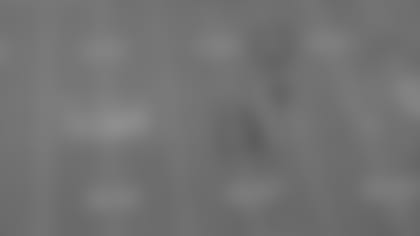 It all started here, on the Seahawks' second play from scrimmage in Super Bowl XLVIII. Harvin comes back toward quarterback Russell Wilson before the snap. As the single man in motion, he builds up his speed before taking the football a split-second after it is snapped to Wilson.
The play happens so fast that the defense instinctively reacts to Wilson's fake to running back Marshawn Lynch, even as Harvin (in blue) is already outside and has moved past Knighton.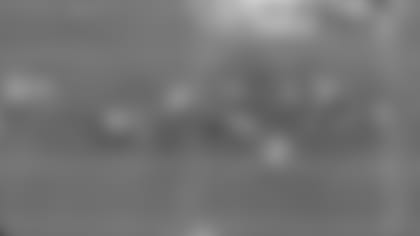 It's not going well. Harvin has the edge, and the Broncos' only hope is that their secondary can minimize the damage. However, cornerback Dominique Rodgers-Cromartie temporarily turns his head away from Harvin to focus on his man in coverage, and safety Duke Ihenacho has responded to the fake to Lynch. Either could have kept this play to a reasonable gain of seven to 10 yards. Instead, Harvin sprints for 30, and the Seahawks were in field-goal range less than 60 seconds after their game-opening safety.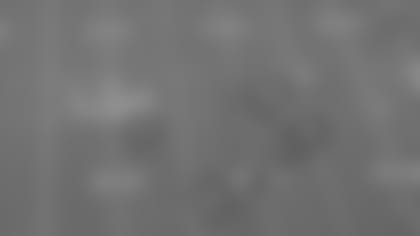 The Seahawks turned to the jet sweep again later in the first quarter, and the Broncos were better prepared for it. Better reads from safety Mike Adams and linebacker Danny Trevathan -- who didn't get suckered in by the fake to Lynch -- minimize the damage from a backbreaking 30 yards to a tolerable, but still crucial, 15.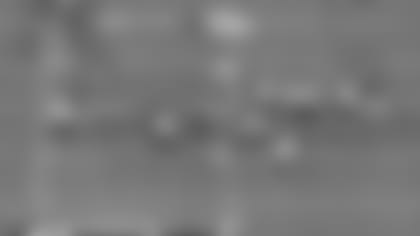 The Seahawks have also expanded their use of Harvin by lining him up as a tailback, with running back Marshawn Lynch used as a fullback.
Last week, the Seahawks used this I-formation grouping on a third-and-1. Linebacker Jerry Attaochu bites on the fake to Lynch and commits to chasing him down from the back side, which opens up the left side of the field for Harvin, who took the football for a 51-yard touchdown run.
But there are limits to Harvin's use in the ground game, even in the jet or fly sweeps. The Seahawks learned this as they attempted to mount a late-game comeback at San Diego. Harvin sprinted in motion to take the handoff from Wilson -- but the defense followed him. There was no running back to consider; the backfield was empty.
With only one potential run option -- a Wilson keeper -- their defenders had to simply hold their ground, watch, and pounce. Two defenders took away the possibility of a Wilson run to the right, and Harvin swept left into the grasp of Shareece Wright for a six-yard loss that effectively ended their comeback hopes.
Whether there's a running back next to Wilson or not, the cornerbacks know they must stand ready to make a play on Harvin's end-arounds.
"He's an explosive player," said cornerback Aqib Talib, "And we have to know where he is at all times."
Added Harris: "I've got to be making sure that I set the edge well and make sure that he doesn't get around on those edges."
Harris also learned first-hand on Dec. 4, 2011 that Harvin can be physical. On the first of two touchdown receptions he scored for the Vikings against the Broncos that day, Harvin shoved Harris three yards beyond the line of scrimmage, knocking the then-slot cornerback to the Metrodome turf. That allowed Harvin separation to break outside, at which point Christian Ponder fired a quick pass that turned into a 52-yard touchdown.
"I was way smaller and was nowhere near where I was now!" recalled Harris this week. "I just know that he's strong, and I've got to be physical with him. He's good at doing those push-offs."
Harris doesn't expect coverage of Harvin as a receiver to be on his docket this week, not with Bradley Roby assuming slot corner work while Harris settles in on the outside.
"So I really don't have to see him as much," Harris said, "unless he comes to me."
And he will -- on the jet sweep.
"That will be my job: to stop him on those sweeps," said Harris.
The four greatest words in the history of infomercial advertising are also the warning to not overcommit to defending Harvin.
You start with Wilson. His explosiveness with his feet and his laser-quick release cause problems for the defense, whether he takes off after the snap or darts around the backfield, waiting for a late-opening receiver.
"Him being able to extend plays, just like (Kansas City quarterback) Alex Smith, that's what makes these guys who they are," said Harris. "So we've got to be able to cover longer -- like we have been the last couple of weeks!"
And then there is Lynch, the threat of whom opens up horizons for Harvin. In future weeks, it could be Harvin who draws defenders and opens holes as wide as boulevards for Lynch.
"I think priority No. 1, you've got to start with Beast Mode," said Talib. "You've got to stop that run."
The increased threat of Harvin makes Lynch more effective on a per-carry basis. He averaged 4.2 yards per carry last year; through two games of 2014, it is a robust 5.6.