DENVER -- When Brandon McManus took to the field before the Broncos' preseason game against the 49ers, a special visitor whose life had been changed by the Broncos kicker was waiting for him.
Two years ago, McManus was a guest at the Global Down Syndrome Foundation's 2015 "Be Beautiful, Be Yourself" Fashion Show in Denver. While there, he heard a touching story about Ryder Braden, a 9-year-old boy with Down syndrome who was being bullied. For nothing more than for who he is, how he talks and how he throws a football, Ryder was being harassed by his neighbor.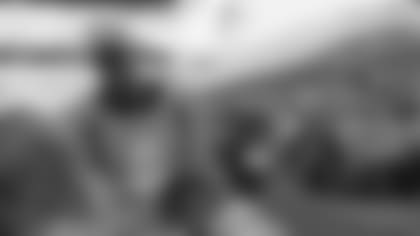 Looking for help, Ryder's mother, Season Hillery, contacted the police to see if there was any way they could intervene. In short, they told her that they couldn't stop the bully from saying whatever he wanted.
"It was really hard to be a parent and accept that people can just say what they want to you, and you can't protect your child who can't defend themselves," Hillery said. "Brandon volunteered to come over and show his support for Ryder and play football in front of the neighbor to show him that if no one else cared, the Broncos did."
After meeting the family for an afternoon of playing catch, McManus had become Ryder's hero. Season had taken a video of the two playing together, and Ryder watches it almost every day.
Before the Broncos' preseason home opener, Ryder and Season were on the field before kickoff as part of the Broncos' fan thank-you moment to 90 Broncos Country representatives. While the mother and son watched warm-ups, McManus strode over to them to say hello and welcome them to his home turf for Ryder's second Broncos game.
"We stay in touch all the time," McManus said, "He has this football that he loves … and he brought it to the game Saturday, as well. … He had a polo that was all decked out with my name and number and 'Anti Bully Squad' all over it. Just to see how well they're doing, and as he continues to do well, [means a lot]."
The Anti Bully Squad is a foundation that McManus co-founded along with former music manager Tom Peterson in September 2014. The impact McManus had on Ryder is exactly why he started it.
"Just seeing his face light up and the enjoyment that his mother had, and that Ryder had," McManus said, "it really touched me, and I wanted to do something so that I could help this cause."
From the face-to-face insults Ryder faced, to the cyber-bullying that's become more prevalent with the rise of social media in the past decade or so, McManus aims to tackle whatever he can. He gives children as many avenues to find help as he can.
And when it comes to trying to prevent the problem as much as possible, McManus' goal is to create understanding for children that it's OK to be different.
"You want to be you and enjoy yourself and love yourself more than anyone else can kind of beat you down for that or make fun of you for it," McManus said. "So as much as we can kind of teach these kids how each kid can be kind of different from one another to kind of embrace each other and if one person dresses a certain way, if one person talks a certain way or looks a certain way, everyone has to kind of embrace that and kind of move on with it."
Season can attest to the impact that McManus and his foundation have had: "To me, it's made a difference that people see that people who are their idols are against bullying. It opens eyes for how much it hurts people and not even just them; it hurts their families, as well, to watch their children or their family members go through being bullied. And it really makes kids feel that their idols and people that they look up to and want to be like someday are against things that are negative and hurtful to them."