[from the NFLPA:] Denver Broncos cornerback Bradley Roby has been named this week's NFLPA Community MVP for his continued efforts to empower kids through academic and social outreach programs.
In just his third year in the NFL, Roby knows he is a role model for many. He understands this incredible responsibility and because of that, he spends most of his time away from the field with kids. This week's off day was no different.
The Super Bowl-winning defensive back joined PBA star Sean Rash and Mike Dobbyn, the world record holder for the longest drive, as a host for The Smile Generation Strikes for Kids Golf Par-Tee on October 25.  More than 30 children and their "bigs" from the Big Brothers & Big Sisters of Denver enjoyed an outing at Topgolf to support a great cause.
"I was really honored when I found out I won," Roby said. "I know only one guy every week can get it, and I see what guys all over the league and here in Denver are doing in the community, so it meant a lot to me to receive the award."
The event raised $13,500 to benefit Strikes for Kids Giveaway Program, which recognizes and rewards children ranging from ages 6-13 years old for their athletic and academic achievements.  Roby made the benefit even more special by hosting six breast cancer survivors in honor of Breast Cancer Awareness Month.
"I was motivated to do the event because I know we as athletes have a platform- and there's no excuse for us to not be using that platform to better our surroundings," Roby said. "The Broncos fans here in Denver are really the best fans in the NFL, so it's important to me that I get back out here in this Denver community and make a difference however I can – especially with the kids and especially for the breast cancer survivors during this special month of awareness and recognition."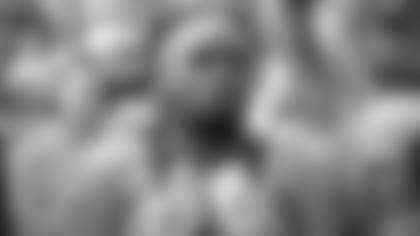 The former Ohio State standout has been a consistent presence in the Denver community, supporting his Broncos teammates as they lead their own events and fundraisers. Roby also takes time to speak to students at high schools as he understands how his voice and platform can make a difference in their lives. On behalf of our sponsor Delta Private Jets, the NFLPA will make an in-kind donation to Roby and his foundation for being named this week's Community MVP. Visit our websiteto read more and see photos from Roby's outreach work.
The NFLPA Community MVP program recognizes NFL players who are making a positive impact in their local communities. Each week during the regular season, the NFLPA will celebrate one active NFL player who has demonstrated a commitment to giving back to his community.