ENGLEWOOD, Colo. — The Broncos' defensive line is looking dangerous this season, and the two biggest reasons are both named Jones.
A perfect one-two punch of run stopping and pass rushing, D.J. Jones and Dre'Mont Jones should be a nightmare for opposing backfields. Both players are athletic, have quick hands and are explosive off the line — a combination that allows them to constantly disrupt the offense.
D.J., a sixth-year defensive tackle, signed with the Broncos in the offseason after spending his first five years with the 49ers. The Broncos' biggest move came when they traded for Russell Wilson, but signing D.J. was an important measure that will drastically improve the defensive line's ability to stop the run.
One of the better run stuffers in the NFL, D.J. ranked first in the league last season in run-stop win rate, according to Next Gen Stats. He is a versatile lineman, able to play in multiple different techniques and dominate his opponent regardless of where he's lined up.
"Wherever they want me to go, I will go," D.J. said on his signing day in March. "If they want me in the 4i, I'll go in the 4i. If they want me over the center, it is what it is. … Whenever I put my hand in the dirt, I'm licking my chops."
D.J. doesn't just stop the run — he can also rush the passer, and the 305-pound defensive tackle has made some huge sacks over the course of his career. He even brought down Wilson in 2019 when the 49ers played the Seahawks, flattening him on third down. Having faced each other numerous times, both players had enormous respect for each other long before they became teammates.
Now having No. 3 on his team, D.J. believes practicing against Wilson will help the defensive line learn to play against mobile quarterbacks. In the AFC West, being able to get pressure on spry passers like Patrick Mahomes will be crucial.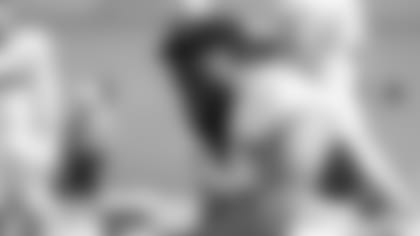 "[Wilson] is definitely preparing us for that," D.J. said during OTAs. "Having a mobile quarterback, it's not like he's just standing in the pocket. He's doing what he does. He's out there scrambling around, making plays, so that will definitely prepare us."
The Broncos will face D.J.'s former team on "Sunday Night Football" in Week 3 when the 49ers come to Empower Field at Mile High, and D.J. doesn't just think he will make big plays — he knows he will.
"Simply put, I'm going to go crazy," D.J. said. "Not because [of] anger against them, I love that organization. But everybody, when you play your former team, it goes down."
While D.J. plans to cause chaos through the middle, Dre'Mont will be a fearsome presence on the edge of the defensive line this year. A fourth-year defensive end out of Ohio State, he has become a notable pass rusher over the last two seasons. He recorded 12 sacks and 22 quarterback hits in 29 games from 2020-21, and many expect Dre'Mont to far exceed those numbers going forward.
He is a player that D.J. was especially excited to play with, primarily because of his effectiveness in the pass rush.
"[Dre'Mont's] very disruptive," D.J. said. "I love it. … I'm glad he's here with me, I'm glad I'm here with him."
The defensive end truly made a name for himself in the Broncos' commanding win against the Lions in Week 14 last season, recording a sack, a tackle for loss and a fourth-down pass breakup all in a single drive. It was undoubtedly the greatest series of his career, though he wasn't aware of it at first.
"I didn't realize what I did until I came to the sideline, and everyone was like, 'Bro, do you realize what you just did? That was probably the greatest series I've ever seen in my life,'" Dre'Mont recounted after the game. "I got that from so many people."
Dre'Mont was a force to be reckoned with last year, and he has put in a lot of work in the offseason to elevate his skill set even more in 2022. He believes he has continuously improved since his rookie year, particularly on the mental side of the game.
"[I'm] super comfortable," Dre'Mont said. "Year 4, I know more, I feel better. I feel a lot better out there compared to Year 1. The talent was always there, but the confidence wasn't always there, and now I have that confidence. Some moves I wouldn't do, I'm more confident just to try it out."
While several of his teammates are older and more experienced, Dre'Mont has started to take on a leadership role on the defensive line this season. He is always the first player up during drills, wanting to create an example for others to follow.
"Before I wasn't the first one up, [but] now I want to be the first one," Dre'Mont said. "I want to set the tone, I want to be [the], 'That's how you're supposed to do it,' type of guy."
D.J. and Dre'Mont will be a formidable duo on the defensive line, and D.J. thinks they will be most effective by working together to storm the backfield.
"I've told [Dre'Mont] over and over again, we're going to make a lot of plays in the backfield if we both attack," D.J. said during training camp. "I can't wait. I came from an attack system, and just to be playing alongside somebody like that, I'm excited."
With the different specialties they each bring to the unit, they complement each other's games well. Where D.J. is strong and powerful, Dre'Mont is crafty and quick.
"[D.J.'s] like more of a bull, I'm more of a deer," Dre'Mont joked.
The sky is the limit for this defensive line with D.J. and Dre'Mont leading the way. They have high expectations for what they can accomplish in 2022, and they believe they have what it takes to dominate any opponent.
"We can be the best D-line in the NFL as long as we continue to work hard, stay healthy and lean on each other," D.J. said. "We can be the best."