ENGLEWOOD, Colo. --It's possible that the Broncos could attempt to answer their question at left tackle in this week's draft.
But with a weaker-than-usual class at tackle, is there a draft pick capable of being a starter at that key spot from the opening whistle?
"Yeah, there could possibly be one," Executive Vice President of Football Operations/General Manager John Elway said at his pre-draft press conference Monday afternoon. "If that's where we go, he's going to come in and compete for a job -- just like all these rookies that come in, they will all compete for a job."
Elway did not get into specifics about which tackles could fit that bill, and declined to break down the team's draft board. Wisconsin's Ryan Ramczyk, Utah's Garett Bolles and Alabama's Cam Robinson are widely projected to be the first three tackles selected this week.
The landscape of evaluating tackles has changed in recent years, and that impacts the setting of draft boards and the ability to project whether a tackle can make the leap from college to the NFL.
A recent proliferation of spread, passing-intensive offenses in college football prevents many potential tackles from lining up in a three-point stance and executing run-blocking concepts that the NFL's style of play requires.
"The technique of what they do offensively has changed over time," Elway said. "Therefore it may be a cause of why it's a little bit thinner this year than it has been in the past, because there's a lot of throwing the ball, and the ball comes out quick -- especially with different teams.
"The Alabamas, SEC teams, those types of teams still run the football, so you get a good evaluation of those people. But when you're talking about teams and how much they throw it, it definitely affects the offensive line."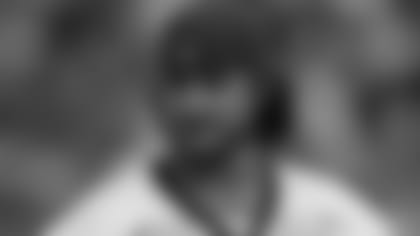 Current Broncos offensive lineman Ty Sambrailo did not come from Alabama, but at Colorado State he worked in a program with a similar philosophy. Sambrailo's college coach, Jim McElwain, worked as an assistant to head coach Nick Saban at Alabama before heading to CSU. In Fort Collins, McElwain rebuilt the Rams by utilizing many of the same scheme concepts Saban uses in Tuscaloosa.
Sambrailo's work in CSU's scheme laid the groundwork for the Broncos to turn to him immediately when Ryan Clady tore his ACL in May 2015. Sambrailo started the first three games of the 2015 season at left tackle before suffering a torn labrum, and he could once again be an option there.
"A lot of people don't think we have a left tackle on our team. Ty Sambrailo played left tackle for us two years ago [and] was playing very well, and [he] hasn't been able to stay healthy," Elway said. "That's always an option for us."
Sambrailo joins returning veteran Donald Stephenson and free-agent signee Menelik Watson as options at left tackle mentioned by Elway and Head Coach Vance Joseph in recent weeks.
Elway felt that rolling with those potential tackles was "the best option for us at that time" after considering free-agent possibilities.
"We looked at all the options, so we felt the direction we went was the best option for us at that time," Elway said. "Left tackles are not easy to find, and again, we go back and we thought Ty is a guy that can compete there, Stephenson's played a little left [tackle] and Menelik's played a little left [tackle]. We're not without [options] there.
"It may not be ideal, but you never know -- with the way Ty was playing a couple of years ago, we feel like he was going to be a very legitimate left tackle until he got hurt."