ENGLEWOOD, Colo. — The first thing Greeley Fire Lieutenant Tim Logston notices when he's deployed to fight a wildfire in Colorado isn't the smell of the smoke, the ash in the air or the heat.
What he notes first is simply the beauty of the land.
"Honestly, [it's] probably the beautiful country where you're going, the mountains and what it will be like when it's over there," Logston says. "If it stays in the groundcover in the understory, it's actually a pretty good nice, clean burn. If it gets into the trees and it crowns, it destroys that area, and that's a 50-year recovery, I bet."
Logston, who has been a firefighter for 18 years and served as part of the Greeley Fire Department's wildland firefighting team for the past 10 years, was on a truck crew in mid-October at the Cameron Peak Fire, which is currently the largest in Colorado history.
In and around Glen Haven, just to the northeast of Estes Park, Logston worked on tree limbing and felling operations, putting in sprinkler systems and more in the effort to try to save structures. Sometimes that even includes a controlled-burn method that the unaffiliated may think is counter-intuitive.
"We fight fire with fire," Logston says. "So we burn around the homes and try to burn up the material up to their houses. That way when the fire front comes through it hopefully doesn't affect their houses."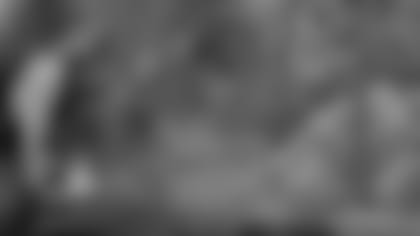 "The wind and the dryness was probably the most shocking for northern Colorado this year," Logston says. "… When fires get on the bottom ends of those drainages and the wind lines up just right, it runs straight up those mountains."
It's been a trying year for firefighters in the state — and a historic one. Mere miles to the southwest of the largest wildfire in state history is the second-largest, the East Troublesome Fire.
It's taken a massive and heroic response to get the fires under control. The Cameron Peak Fire alone has a current total personnel of nearly 1,200 people. Greeley Fire helped respond to each of the state's major fires over the past four months, with 18 members deployed at various times, and so many other local fire departments from around the state and country have contributed, too.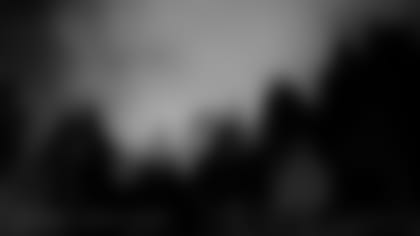 Their work, of course, has not gone unnoticed.
On Monday, several Broncos players — Bradley Chubb, Melvin Gordon III, Dalton Risner, Tim Patrick, Austin Calitro, Josh Watson, McTelvin Agim and Derrek Tuszka — shared their appreciation directly with dozens of firefighters in the state, including Logston.
Each player had a reason for them to be there. For some, it was simply an appreciation for the work and their willingness to sacrifice to do it. The players even got a demonstration of that when one department's engine crew had to run off screen when they received a call midway through the conversation.
For others, there was also a personal connection. Tuszka's uncle is the chief of the volunteer fire department in the rookie's hometown in South Dakota. Two of Patrick's best friends became firefighters this year. One of Watson's former CSU teammates is a firefighter. Gordon and Calitro, as residents of California in the offseason, have seen how destructive fires can be in that state.
And as it so happens, one of Risner's childhood friends from Wiggins, Colorado, works at the Greeley Fire Department with Logston. Because of that, they have a natural connection to the Broncos. They are also Engine 5, Ladder 5, so they go by the nickname "Double Nickel" and have an autographed, framed Chubb jersey at the station.
"I've got to give a shoutout to the 'Double Nickel,'" Risner said. "I love you guys out there. … Big shoutout to you guys for what you do. And really a shoutout to everybody on here, every single firefighter. I've got a lot of respect for what you guys do, especially with the fires lately — but not just what you've done lately, what you guys continue to do every single day. I think it takes a lot of selfless people, so I really appreciate all of y'all."
Over the span of virtual get-together, the group swapped stories. Football players asked questions that piqued their interest about fighting fires, and the firefighters did the same, but about the recent win over the Chargers or how they take care of their bodies during the season.
One thing that they all could immediately and intrinsically understand through the nature of their jobs was the nature of teamwork and accountability in high-pressure situations.
"All of us have a job on the rig, whether it be an engine, a truck, an ambulance — it doesn't matter," one firefighter said. "We all have a job and we all come together as a group and complete whatever call we're going to. It's very similar to sports, very similar to what you guys do, I'd say."
The video call lasted an hour. Maybe that's not a long time in itself, but during a difficult time, the connection will undoubtedly last much longer.