ENGLEWOOD, Colo. — Ultimately, what brought new Broncos punter Sam Martin to Denver may have been the guidance of two longtime great NFL specialists.
In Detroit, Martin's kicking compadre was Matt Prater, who spent more than six years with the Broncos before joining Martin on the Lions. The two have handled the place-kicking and punting duties for the Lions for all but six games since Prater's first game for the team in Week 6 of the 2014 season.
In that time, Martin said, Prater has occasionally shared his thoughts on playing in Colorado and living here. Throughout the years, those words have stayed consistent, and when Martin became a free agent, those words became influential.
"Prater has become, over these years, ... one of my best friends," Martin said. "I was definitely close to him in the locker room. Obviously, we spent every minute together, but he's been a great friend to me and a great teammate. And he had nothing but good things to say about Denver, since the day he walked in until the conversation yesterday. He says it's just a great place to live, great people, great organization. He got me really excited about it and I just know how much he loves Denver. He's kind of pointed me in the right direction as far as where to live, places to go, stuff like that. It's nice having somebody who spent so much time there helping me out with that."
More than that, the football fit had to work, too. For firsthand advice on that, Martin turned to former Colts punter Pat McAfee, whom Martin considers a mentor.
McAfee told him that he thought Martin's potential fit in Denver with Special Teams Coordinator Tom McMahon would be a natural one. McMahon was McAfee's special teams coordinator in Indianapolis from 2013 until McAfee's retirement following the 2016 season. During those four years, McAfee made two Pro Bowls and earned a first-team All-Pro selection.
In McAfee's eyes, he and Martin have similar punting styles, so the fit makes sense.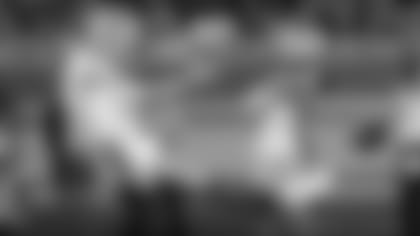 "I had a conversation with Pat McAfee, who obviously, he worked with Coach McMahon for a while in Indy," Martin said. "I just had a talk with him, maybe a month or two ago, just picking his brain a little bit. He had nothing but good things to say. He kind of alluded to me and him kind of [having] similar styles of punting, and what Tom was able to accomplish with Pat's skill set. … [He] made it sound like it's a possibility that me and Coach McMahon could [fit]. He's got an eye for that, an ability for it, to scheme to match the punting style of the punter. So just with that being said, me and Pat — Pat was an exceptional punter obviously, multiple Pro Bowls and whatnot. So I'm definitely not comparing myself to a guy like that, but I think we have similar attributes, and just seeing the success that he and Coach McMahon were able to achieve, that got me excited."
Martin also said that he has spoken with McMahon recently to discuss the direction he wants his special-teams units to go in — and direction is exactly McMahon's focus.
"There's a lot of different things, different directions that we can go in, but just briefly speaking with Coach McMahon, I think directional punting is a big thing that he likes to do," Martin said. "That's part of his scheme and that's kind of where I've been my whole career. I've always thrived on my directional punting.
"I think between that and my hang time, that's two things I really pride myself on and try to be at the top of my game at, just because it's simply the more hang time [and] the better [at] direction I can be, the easier it is on my cover guys. So I think that's two points there that I think will be emphasized throughout this year."