DENVER --After greeting longtime rivals and acquaintances like Bill Belichick and Tom Brady and watching his teammates warm up Sunday, Peyton Manning returned to the locker room to watch the Broncos' 30-24 overtime win over the Patriots on Sunday night.
The decision to have him in the locker room wasn't about staying out of the public eye. Rather, it was about continuing to give his foot as much rest as possible while he wears the walking cast that is expected to be removed at some point later this week.
"We talked about it. He could have been on the field. That didn't make much sense to stand out there for three-and-a-half hours," Head Coach Gary Kubiak said Monday.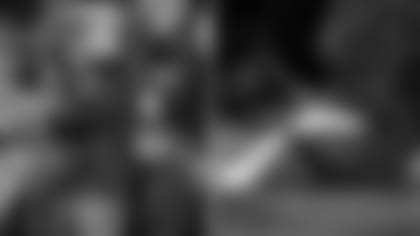 "He could have gone to the booth, so he's got to go up and down with the cast on him. We settled on basically [saying], 'We have a nice, comfortable, warm spot for you here in the locker room.' That's how it came about."
Manning was able to study the game from that vantage, and offered Brock Osweiler advice after watching the first half.
"Peyton just had some great ideas about what he saw watching what was going on," Kubiak said. "He had our game plan with him. He started pointing out some things to me about some of the things that he felt good about, and he was echoing that to Brock.
"He and Brock sat there at halftime [going] through our list of what we're coming out with, that type of thing. [He was] just a positive reinforcement as we're playing. We knew we were in a tough ball game and needed to play well in the second half. Having him there was a boost, I think, for everybody."
What comes next for Manning remains up in the air. The only aspect of his next few days etched in concrete is the knowledge that he will not play in San Diego next Sunday, leaving Osweiler to make his third consecutive start.
The walking cast on Manning's foot is expected to come off sometime this week.
"The biggest question this week is really going to be about when the cast comes off," Kubiak said. "Does it come off early this week or does it come off at the end of the week?
"The progress has been good. The next step when he comes out of it is to get back into the rehab process into the field."
The rehabilitation in the wake of Manning's plantar fascia tear paused after he donned the walking cast last week. The cast was placed on his foot following a consultation with foot and ankle specialist Dr. Robert Anderson in Charlotte, N.C.
Kubiak admitted that he didn't know what Manning's timetable would be after the cast is removed -- and whether taking it off early or late this week would make a difference.
"I'd be overstepping my bounds there. I don't know," Kubiak said. ""I know he's not going to come out of the cast and go straight to the field. It's going to be out of the cast, some rehab, so there is a process there to go through."