ENGLEWOOD, Colo. -- **It was just a matter of details, negotiation and business. Never was the desire to complete a long-term contract in question for either Von Miller or John Elway.
The back-and-forth played out over the course of several months, going back to February, when both sides hoped to have a deal done to avoid the franchise tag. That didn't derail the deal; it just postponed it until now.
And for the fourth time in as many opportunities, Elway got a franchise-tagged player signed to a long-term contract, with Miller agreeing to a six-year deal.
"This was a long process that ended the way we all wanted -- with Von being part of the Denver Broncos for many more years," Elway said.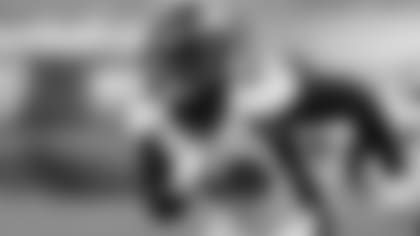 A successful team like the Broncos can't keep everyone. But in the past two years, Elway has managed to re-sign six key starters to contracts of at least four years: Miller, wide receiver Demaryius Thomas, linebacker Brandon Marshall, cornerback Chris Harris Jr., running back C.J. Anderson and defensive end Derek Wolfe, with the five re-signings before Miller worth nearly $80 million in guarantees.
That's a core around which you can continue contending for championships -- to win "from now on," as Elway often says. Miller has particular significance; as Elway's first draft pick, he was the biggest building block in refortifying the core of a roster that had become hollowed in previous years.
And for the defense in particular, Miller's long-term contract gives the unit a chance for an extended run of greatness.
"Absolutely," Marshall said during OTAs. "And I think if you look at the guys [who got big contracts], nobody got their money and relaxed. It's not like Aqib [Talib] got his $60 mil and T.J. [Ward] got his $20 mil and guys just said, 'OK, I'm coasting.' They still want to be great. They got their money and they said, 'I've still got something to prove. We still have something to prove.'"
There is every expectation and reason to believe Miller can meet that standard.
"Sometimes you might pay a guy and he might say, 'OK, I'm cool. I'm set,'" Marshall said. "But these guys here ... guys hold each other accountable, and we've got the perfect culture to be great for a long time."
Culture is built by people -- executives, coaches and the players who maintain the standard. From the day he was drafted with the No. 2 overall pick until now, Miller helped set it.
Now his task is to raise that standard -- and others with him. And now he has a contract that shows the Broncos' belief in him to do exactly that.
Miller's first job will be to build off a playoff run that was as dominant as any turned in by a defensive player in recent memory -- three games in which he intercepted a pass, forced two fumbles and racked up five sacks.
"I've never seen a player play that great for a stretch of three games. It was crazy," Marshall later said.
But as dominant as Miller was, the expectation with this contract is that his playoff run is a springboard for greater moments to come.
"I think that is just going to catapult him up. I think he can have a 20-sack season, man," said Marshall in May. "I definitely think he could be up to the DeMarcus Ware [level]. He could be that. He has all the makings and all the tools.
"I definitely think he will achieve that, because he's still hungry, too. Von is still hungry."
Added Elway: "Von's earned this contract not only for what he's done in the past but for what we believe he'll do in the future ... Going forward, we expect great things from Von not only on the field but with the responsibility he has as a leader on the team."
And now that his contract is done, his hunger can be focused on building a legacy he wants to leave: as one of the greatest edge rushers to play the game.
Von Miller and the Broncos have agreed to terms. Take a look at Miller's career through the years. From draft day to Super Bowl 50 MVP.