ENGLEWOOD, Colo. --As Cleveland's fans celebrated a Robert Turbin run that moved the Browns to first-and-10 at the Denver 11 late Sunday afternoon, many probably didn't notice that the clock had stopped.
With 1:53 remaining and the Broncos holding a fragile 23-20 lead with the Browns bearing down in the red zone, Denver took its first timeout. The following two plays saw timeouts Nos. 2 and 3.
When coupled with Josh McCown's decision to throw an ill-advised pass on third-and-7 rather than take a sack, the Broncos had 90 seconds left on the clock for a potential game-winning drive by the time Omar Bolden fielded the ensuing kickoff.
Just because the offense subsequently went three-and-out with three incompletions -- including one costly drop by Demaryius Thomas -- does not mean the Broncos' tactics weren't a perfect example of how to manage that end-game scenario.
The musty notion of "saving" a timeout for a potential game-winning drive isn't the most efficient way to handle setting up your offense for a game-deciding drive in the final moments.
The overall time saved will be greater on defense against a team trying to evaporate time by draining a 40-second play clock than when the Broncos would be on offense in hurry-up mode -- generally a difference of from 20 to 35 seconds per play, depending on how fast the offense could get set.
That's potentially the difference between being in field-goal range and settling for a "Hail Mary" (or, to use the hoary Atlanta Falcons term, "Big Ben") toss.
Director of Analytics Mitch Tanney knows this, and Head Coach Gary Kubiak followed his suggestions to the letter.
"It's all Mitch saying, 'Coach, call the timeout,'" Kubiak said.
Tanney meets with Kubiak every Friday before a game and sits in the coaches' booth on game days. In training camp, he stood near Kubiak during game-condition simulations so they could hone the communication in situations like the one they faced Sunday.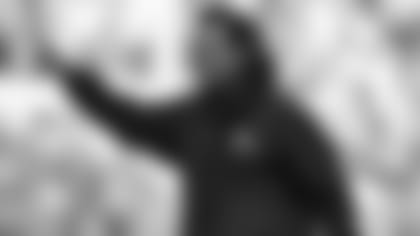 "It's a great comfort zone," Kubiak said. "What are you going to do? They're in position to tie and they might beat you, so you have to do everything that you can to find a way to get the ball back. That's his specialty, helping me in those situations."
Contrast the Broncos' tactics to those employed 92 miles northwest at Ford Field.
At just about the same time as the Broncos and Browns' frantic finish to regulation, the Bears led the Lions by four points (31-27) when Detroit's Matthew Stafford found Lance Moore for a 26-yard gain to the Chicago 6-yard-line. The clock continued to run, and as the Lions casually took their time huddling, the clock drained from 1:55 to 1:17 before they ran another play.
The Bears would call their first timeout after that first-and-goal play, but after a second-down intentional-grounding penalty on Stafford, the Bears chose to accept 10-second clock runoff, which they could have declined. That reduced the remaining time to 34 seconds.
Two plays later, Stafford hit Calvin Johnson for a 6-yard touchdown pass, and by the time Chicago got a shot to come back, just 25 seconds remained. They managed to sprint to a game-tying Robbie Gould field goal thanks to two long Jay Cutler-To-Alston Jeffery completions and a defensive pass-interference call -- and they never used their two remaining timeouts to get downfield.
If the Bears had called timeout after the Stafford-to-Moore connection and declined the 10-second runoff, they would have picked up 47 more seconds. With 1:08 on the clock when beginning their final possession of regulation instead of 21 seconds, they could have been in position for the winning touchdown and avoided overtime.
The Bears made the wrong call. The Broncos made the right one, and they can thank Tanney -- and Kubiak's trust in him.
"While I'm involved with the football, he's able to jump in there and say, 'Okay, here's the route that we should go,'" Kubiak said. "It helps a great deal."