ENGLEWOOD, Colo. --The financial security and career validation that Todd Davis now possesses after signing a three-year contract once seemed to be an impossible dream.
All Davis has to do is think back to Nov. 12, 2014 to recall just how far he has come. That was the day the New Orleans Saints waived him for the fourth time since signing him as a college free agent five months earlier.
The odds of a successful NFL career were not in Davis' favor that day. Undrafted from an FCS school, bouncing between the Saints' practice squad, active roster and the waiver wire, he was battling for a toehold in the NFL.
"I think that third or that fourth cut definitely made me a little nervous about today," he said.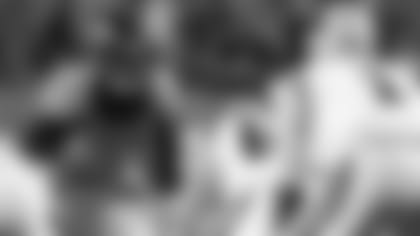 But one day after that fourth cut, the Broncos claimed him off waivers. They needed a linebacker after placing Nate Irving on injured reserve. Davis' career -- and life -- changed forever.
"I like to say that I'm not really supposed to be here," Davis said. "I feel like I am, but as far as my circumstances in the past, they've proven that a guy like me is really not supposed to make it."
As a starter for the last two seasons, a solid run defender and a former Broncos special-teams captain with a contract extension in his back pocket, Davis, by any valid standard, has made it in the NFL.
Other teams expressed interest, Davis said, but he never wanted to leave the team that gave him his first extended shot to play.
"I felt like the Broncos were home for me, though," he said. "I had some negotiations go back and forth with a couple of teams, but the Broncos were my go-to and where I really wanted to be, so I feel like it was the perfect fit."
Now comes the next step: being a team leader. With a new contract, more will be expected of him.
"I think I need to become more of a leader vocally and also a leader on the field," he said.
Now that he's established his place in the NFL, he can push for something more, something beyond himself.
"I think it's my job to help the team in any way I can," Davis said, "and I feel like being a leader, always putting my best foot forward, continuing to work hard, putting forth a good work ethic is going to help raise the team to a level to where we're back in the Super Bowl."
From being on the team in 2015, he knows the path. From his rough entry into the league, he knows the pitfalls his younger teammates face. He understands the highs and lows of the NFL life better than most.
Thursday was a high point, and the realization of a dream.
After agreeing to terms on a new contract Wednesday, Todd Davis returned to UCHealth Training Center to sign his contract. (Photos by Gabriel Christus)