DENVER --Two yards separated the Chargers from being a two-point conversion away from tying the Broncos with fewer than three minutes to go Sunday.
Two yards needed for an offense that had marched 98 yards the previous quarter to ensure the Broncos paid the maximum price possible for Devontae Booker's fumble as he attempted to reach the football over the goal line early in the third quarter.
Two yards needed for an offense that had just become the first in 25 games played over 13 months and 12 days to produce a 100-yard rusher against the Broncos, with Melvin Gordon dicing up Denver for 111 yards on 23 carries.
Two yards needed for quarterback Philip Rivers, who has enjoyed more success at Sports Authority Field at Mile High than any other visiting passer, as evidenced by his six wins there since he became San Diego's first-team quarterback in 2006.
But it was also two yards needed against a Broncos defense that was built for moments like this.
Denver's 27-19 win over San Diego on Sunday was filled with turning points that rocked the game back and forth like a vending machine about to tip over. But the final change of momentum was provided by a defense that did what it has done time and again in the last year and a half: It stood its ground when it was needed most.
Even with Defensive Coordinator Wade Phillips undergoing tests in a local hospital after a frightening second-quarter collision, even with starters Brandon Marshall and Aqib Talib out because of injury, even with No. 4 cornerback Kayvon Webster watching from the sideline because of a hamstring issue of his own, nothing changed. The Broncos didn't tweak their tactics because Phillips wasn't there, or because Lorenzo Doss was seeing the first extended work of his career.
"We just brought the heat," cornerback Chris Harris Jr. said.
On first down, the Broncos brought six men -- including an unblocked T.J. Ward. Rivers threw it away. The crowd roared.
On second down, the Broncos brought five men -- including DeMarcus Ware, who got low and outside of San Diego LT King Dunlap, got his hands up and used Dunlap's torso to start his sprint toward Rivers. Ware kept running and flushed Rivers to the right sideline. Rivers threw it away again. The crowd roared louder.
On third down, the Broncos brought six men, including Ward, who rushed in too late to have any impact on the play. Rivers remained untouched as he located Antonio Gates running an out pattern to the left sideline. But with echoes of the previous pass rushes, the pass sailed too far. The crowd roared still louder.
"We were just making sure that if he passes the ball, we contest every single pass," Ware said.
Finally, on fourth-and-goal, with a din so raucous you could barely hear a jackhammer 24 inches from your ear, the Broncos again brought six men -- including Ward, who flew off the edge to Rivers' left. Dunlap tried to contain him, but it was too late, as he arrived in time to force Rivers to throw.
Two pressures in four plays for Ward. Not bad.
"Dog, man. Relentless," said safety Darian Stewart. "Just an aggressive player. He was special tonight."
The pass sailed toward Chargers tight end Hunter Henry at the goal line. In nearly two full games against the Broncos, Henry was perhaps the most difficult Charger to contain, and Doss, who came into Sunday with just four regular-season defensive snaps, was on him in man-to-man coverage.
Doss surrendered six inches and 63 pounds to the 6-foot-5, 250-pound rookie tight end. But he read Rivers' eyes, read Ward's rush that forced the throw, and got his hands on the football first.
"I just felt the throw," Doss said. "I played it and I got my hands on it."
The Broncos asked of Doss exactly what they would have of Harris, Talib, Webster or Bradley Roby: to take care of business in man-to-man coverage. Doss rewarded that trust by breaking up two passes, including one that Stewart intercepted to set up a Booker touchdown run.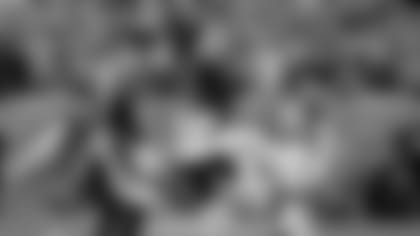 "He's been making plays all year," Stewart said of Doss' work in practice. "Doss is a playmaker, and that's what people don't know about him. Let the quarterbacks keep trying him; he's going to make plays on them."
Doss couldn't corral the goal-line interception. But he had saved the touchdown -- and as it turned out, the game with it.
As stellar as the Broncos' goal-line stand was, it begged one question: Why would the only team to produce a 100-yard rusher in the last 25 games against the Broncos suddenly go away from the run?
The answer lay in the pressure the Broncos brought, which wasn't subtle; they crowded the box on each down.
"We loaded the box on every [play]," Harris said. "They couldn't run. They had no choice but to pass it."
And when throwing into the No Fly Zone is your only option, your dreams start to die. Once again, Denver's defense put a padlock on the end zone to preserve a win.
"For us to get that stop, that was huge," said inside linebacker Corey Nelson, who filled in for the injured Marshall. "I'll never forget that."
The stand wasn't the end, of course; it took a 68-yard Riley Dixon blast out of the end zone four plays later and another defensive stop at midfield to seal it. But the rest was just epilogue; San Diego's best chance to steal their first sweep of the Broncos since 2010 had already come and gone.
"We knew that if they had to drive again, they weren't going to be able to do that," Harris said.
The Broncos got revenge for a Thursday night loss with a 27-19 victory on Sunday over the Chargers that kept the Broncos in a first-place tie with the Oakland Raiders. (Photos by Eric Bakke unless noted)