ENGLEWOOD, Colo. --A year ago, the Broncos needed Todd Davis to step in and start just 40 days and 18 practices after they claimed him off waivers from the New Orleans Saints.
This year, he had a bit more time to learn and prepare for the role he'll handle Sunday when he starts at one of the inside linebacker spots in place of Danny Trevathan, who will be sidelined because of the concussion he suffered last Sunday in the win over the San Diego Chargers.
"I feel real prepared now. It's definitely better being here the full time instead of [a few] weeks before," Davis said.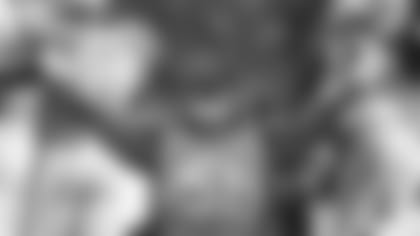 "Having the team chemistry that I have now, it's a lot different going into the game knowing everybody that you're playing with and having such a close bond with everybody."
Davis' work in practice and on special teams has helped prepare him for this opportunity for extended work.
"I'll say one thing: Todd is hungry," fellow linebacker Brandon Marshall said. "He's always been a hungry individual, since I've been around him. He's hungry; he wants it, man. The guy wants it."
"I told Todd, 'You're going to be a starter in this league. You've just got to bide your time. It took me two years to start. ... Everybody's time comes at a different time, but you're going to be a starter, man.' He's going to be good."
Added Head Coach Gary Kubiak: "I like [Davis] a lot. He's very detailed. I'll say this, no player has had a better week of practice than that guy from me watching practice. I'm excited to see him play."
Davis will start at the middle, or "mike" linebacker spot ordinarily manned by Marshall, who will move to the 'mo' inside linebacker position Trevathan usually handles.
The 'mo' is similar to what Marshall played in 2014 when he was the weakside linebacker in the 4-3 alignment.
"It's all relative. I've just got to recall it, because it's still a new defense," he said. "So it's not all the same, but I'll be behind that three-technique [defensive end]."
Even though Marshall will still be an inside linebacker, how he plays each snap will change.
"It's different responsibilities. I've just got to do different things than the 'mike' does," Marshall said. "You might just look at it and say that it's the same position, but it's different -- my responsibilities on different play-calls, my gaps, how I have to do things. It's just totally different.
"It's a challenge for me because I have to be on point with almost forgetting everything I've been doing the last 14, 15 weeks, and stepping into a new role, because it's really different, how you fit the run, your pass responsibilities, how you play a slot formation. It's really all different," Marshall added later. "So I just try to throw everything I know out, and then if Todd needs a break and Corey [Nelson] comes in, I'll just play the 'mike' and recall everything, which will be easier."
Marshall said that he studied both the "mike" and "mo" positions this summer.
"Now the time has come, so I'll be fine," Marshall said. "I knew that [the coaches] kept saying, 'All right, Brandon, you're playing [middle linebacker].' But at the same time, I know how this league works. I know how things work when guys get hurt, when different things happen. And I think they look at me as a versatile guy, anyway."
Marshall had more time to study because he was on the sideline focusing on rehabilitation work from foot surgery during OTAs and the early portion of training camp. With Marshall and Trevathan both sidelined following offseason surgery, the backup linebackers had plenty of chances to get up to speed on the first team.
"It helped me a lot. It was a lot of time for me to grow as a player, coming from my rookie year," Davis said. "It was a great time for me to grow as a player."
Young reserves received extra repetitions throughout the summer, which helped set up the Broncos to withstand the injuries that have accumulated and forced young players like Max Garcia and Shaquil Barrett into extensive work.
"It's a lot of bruises, nicks and snacks," Marshall said. "This season has taken everybody to win and complete the season.
"I tell all the guys, 'Just step up. Get yourself some good film out there.' I told Juwan [Thompson], 'Get yourself some good film, so that everybody knows you can be the starter. I told Todd that, too. So they know."