ENGLEWOOD, Colo. -- **No one in their right minds is going to compare Brock Osweiler to Peyton Manning in terms of career accomplishments, experience and even playing style. One is at the dawn of his starting career; the other is nearing the end. One is headed for the Pro Football Hall of Fame, where there are already plenty of artifacts honoring his career; the other remains an unknown. Any comparison is unfair to both.
But in terms of command of the huddle and presence, Broncos teammates see some of Manning in Osweiler, who will make his first regular-season start Sunday.
"I think that he tries to model exactly how Peyton takes the huddle," said TE Virgil Green. "When he got in the huddle last week, that's what he did. He came in and said, 'Let's keep fighting. Let's keep working. Let's keep grinding and do what we have to do.' That's all that you can ask for."
And Osweiler said that with the Broncos trailing 22-0 and facing their biggest home deficit since Oct. 30, 2011.
"He's just a confident guy," Green said. "Even my wife noticed last week, [saying], 'When Brock gets in that huddle, he takes control,' and that's what he does."
There will be a bit more parity this Sunday when he makes his first career regular-season start, and with it, perhaps a bit more balance than he was able to use in his second-half duty last Sunday. Osweiler's mobility could have something to do with that.
"I think that will open up some deep passes and open up the run game, as well," Green said. "People just can't crash on the running back when they see a dive [off the play-action."
But execution will be crucial -- beyond just the quarterback.
"We have to do things that we're doing better first. That's the most important thing," Head Coach Gary Kubiak said. "I think our focus is on doing those things better.
"Obviously, he can make some plays with his feet like he did the other night making some guys miss and stuff. I think his reactions are to do that when plays break down and those types of things, but we have to really stay focused on the things that we do and do them better."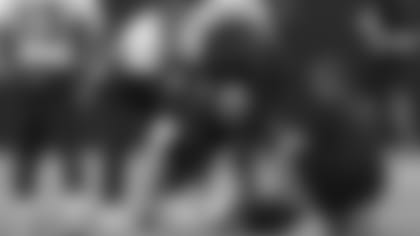 There is plenty of room for improvement. The offense is averaging just 1.65 points per possession, ranks 28th in yardage per game and 26th in yardage per play.
To generate that progress, Kubiak does not plan to throttle back the game plan to make it simpler for the first-time starter.
"No, I feel very comfortable with Brock," Kubiak said. "I could go give him all of the work, mentally, that he needs. He handles everything well, but I think there is a point where you go back, you study him and you see what he's done and what he feels most comfortable with.
"As far as volume of game plan and stuff, I'm very comfortable doing anything with him."
He can do that because Osweiler hasn't just learned about huddle command from Manning, but preparation, as well.
"Just how to read coverages, how to anticipate things, how to get us in good run situations. Peyton has a lot of little tips," Green said.
"When we watch film, when we go over plays, he's talking with Brock. He's going over what to look for coverage-wise when we're running this play, that play. He has a lot of tidbits of information from a guy that will be a first-ballot Hall of Famer."
With the ability to absorb mass quantities of information, Osweiler wasted no time trying to get any extra edge he could find. Upon learning that he would start Monday, he immediately sought out his position coach, Greg Knapp, for extra information.
"As soon as I found out that I was the starter, the first thing that I asked Coach Knapp was, 'If you're the defensive coordinator and you're going against a quarterback in his first career start, what are you going to do differently?'" Osweiler said. "We kind of talked about those things.
"Obviously, you have to prepare for everything, but that's what training camp is for. In training camp when we're doing walk through and things late in the evening when you guys aren't here, we're trying to go through every single scenario possible so when you see it on game day you'll know what to do.
"I like to think that we're prepared and we'll be ready to go."
He's not going to try to be Peyton Manning. But applying Manning's diligence, presence and study habits gives Osweiler the best chance possible to be a successful NFL quarterback.
He has the tools, both mental and physical. Sunday, he'll begin to apply them.
A look at the last time the Broncos played the Bears, on December 11, 2011 in Denver.