ENGLEWOOD, Colo. --If you're going to line up behind or alongside Peyton Manning in the backfield, you'd better know what you're doing.
But Manning will help you. Seventeen previous seasons and a lifetime immersed in football make him a human library of information. But to access the information, you have to walk through the door, go up to the desk and ask. He encourages his teammates to seek him out if they're uncertain about a concept, but he won't hold the door open.
Few have taken greater advantage of that resource than running back C.J. Anderson. Manning would remind his fellow Broncos to ask him questions "all the time," and Anderson accepted the open invitation.
"I got the opportunity to play here, and I'm playing with probably the greatest to ever know everything before it's coming," Anderson said. "I'd be an idiot not to pick his brain.
"I always go up to him and ask him a question when I can, just to make sure we're on the same page. At the end of the day, he's the commander, and if you can get on the same page as him, the ball will come your way more -- which is always good," Anderson continued, a smile crossing his face, "and good things always come out of it."
Good things for Anderson -- and the Denver offense as a whole, as well. After becoming the first-teamer following Ronnie Hillman's foot injury in Week 10 of the 2014 season, Anderson gained more yards from scrimmage than all but one running back (Pittsburgh's Le'Veon Bell). He also emerged as one of the league's best blockers at his position, and ranked sixth among all running backs from Weeks 10-17 in ProFootballFocus.com's pass-blocking rankings.
"He's been in a lot of situations, whether it's two-minute drills or faced a lot of blitzes, he's seen a lot of defenses and he's really a bright player," Manning said. "I think he has a good concept of what defenses are doing. He can see, especially when you're back there in the shotgun, he and I are talking a lot. He kind of has an understanding of which way the defense is rotating, so he knows where the blitz might occur."
That's not to say he's perfect, but moments like the one in the preseason where NaVorro Bowman raced through the A-gap and Anderson couldn't guide him away from Manning in time are the exception to the rule.
"Now I have the offense, and now I'm going into it with the confidence that I have and understanding what we're trying to do, and now me and him are on the same page," Anderson said. "It's a lot better that I'm back there and I can go, 'Hey, this is coming, this is going to happen,' and he looks at me, and he trusts me, and it happens, and then he goes, 'Man, good call.'"
That's a long way from the brief appearances he made during his rookie year. During the 2013 season, Anderson played 25 snaps -- a season-high 10 of which came late in the Broncos' 34-31 Week 12 loss at New England.
"I was still swimming, and [Manning] was telling me what to do, and that kind of bothered me, because at that one time and moment, I feel like I wasn't at my best at what I do -- which is pretty much knowing everything that's going on.
"[In] my rookie year, if I would have said something, he probably would have looked at me like, 'You don't know what you're talking about.'"
Quite the opposite is the case now.
"He has used his playing time, his repetitions and his young career really to his advantage and to make him a more confident player," Manning said. "The more you know what you're doing, the more confident you are. He's really done a good job taking advantage of those reps."
But it's not just about asking questions or studying the playbook. Some of it has to be innate.
Anderson takes understandable pride in his natural intelligence. As he said last year when noting his caution and change to a new helmet after he suffered a preseason concussion, "I'm a Cal guy, so I love my brain."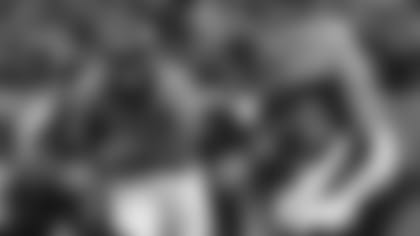 "I think one of my biggest attributes was football I.Q. I don't know if it's something you can coach. [Running backs] Coach [Eric] Studesville calls it a gift," Anderson said. "For me, that's always something that's been the next level to my game. I feel like I'm always at my best because I know what's coming before it comes a majority of the time."
There are plenty of running backs with some combination of attributes: speed, quickness, the ability to read blocks, pass-protection instincts and the intelligence to quickly diagnose a defense's intent. Few have all of these. Anderson is one of those select running backs.
As a runner's career progresses, he might lose a half-step of straight-line speed, or a half-tic of quickness in his cuts. But he can compensate with a greater understanding of the cerebral aspects of his position.
That's where Anderson knows he can grow. The more the Pro Bowler asks questions of Manning, and the more defensive looks he sees and learns how to diagnose, the better he gets.
"It just feels good to grow and keep working," he said. "You can learn every day."