ENGLEWOOD, Colo. -- **Demaryius Thomas agreed to a contract that gives him financial and career security the likes of which few athletes ever know.
And you know what? He deserved it.
He deserved it because no receiver has been more productive over the last three seasons. Calvin Johnson, Dez Bryant, A.J. Green, Antonio Brown ... they're all elite, but none of them have at least 250 receptions, 4,000 yards and 30-plus touchdowns in that span. And Thomas did that while persisting through some injuries and playing every possible time; just seven other receivers with at least 2,000 yards in the last three seasons haven't missed a game.
He deserved it because his ascent to the elite did not begin with Peyton Manning's 2012 arrival. Although the future Hall of Famer's passing helped propel Thomas to the first of three Pro Bowl selections, Thomas played at that level late in the 2011 season, when he found synergy with then-starter Tim Tebow.
Tebow's completion percentage that year remains the worst for a quarterback with at least 250 passes since Cincinnati's Akili Smith in 2000. But Thomas, then unproven and injury-prone, brought out his best. In the last seven games of the 2011 season -- including the playoffs -- Thomas caught 35 passes for 745 yards and four touchdowns. The Broncos would not have snapped their five-year postseason drought in 2011 had Thomas not blossomed.
Those games which prove most instructive for examining Thomas' future, which at some point will include a younger quarterback at the controls. Maybe that quarterback will be Brock Osweiler: maybe it will be someone else, as yet unknown. But when that day comes, that passer will find a crucial security blanket in Thomas, who can beat defenders with his athleticism, his ability to make catches in traffic and his straight-ahead speed. He draws double-teams, which creates open targets elsewhere. When the time comes, Thomas will be a young quarterback's best friend.
And better yet, Thomas performs under pressure; in the post-merger era, only Arizona's Larry Fitzgerald has averaged more receiving yardage per postseason game (with a minimum of seven games) than Thomas' 99.9. His 80-yard dash to glory in the 2011 wild-card win over Pittsburgh remains one of the signature plays of Broncos history.
Thomas earned his payday. Now, he must continue to justify it. That starts with resuming the chase for history -- for him and his team.
The first task is winning Super Bowl 50. It receives a massive jolt with Thomas' return. Now Manning has his best shot at becoming the first starting quarterback to lead two different franchises to Super Bowl wins, and the Broncos have a better chance at joining the exclusive club of three teams with eight Super Bowl appearances and at least three Lombardi Trophies.
If Thomas continues to flourish, he can carve out a place in Broncos history. He already ranks ninth in receiving yardage, and last year became the fastest Bronco to 5,000 receiving yards.
With another 1,000-yard season -- his fourth in succession -- he would vault to fourth all-time, trailing only Rod Smith, Shannon Sharpe and Lionel Taylor.
All of them are in the Ring of Fame. If Thomas continues on his current trajectory, he will someday join them.
And that is another factor that has meaning: his place in team history. Thomas could have played out the year under the franchise tag, left in free agency, and had some big seasons with another team.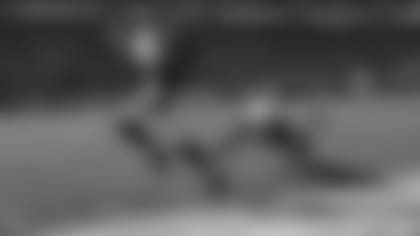 But no other club would ever be his first team, nor might it be the one with which he would be most associated. By staying in Denver, Thomas opens the possibility of crafting a legendary career defined by his years spent with one team.
Twenty years from now, his reward could be walking up to the south entrance of Sports Authority Field at Mile High, striding past his bust alongside the rest of the team's legends, and then jogging through the southeast tunnel as he did during his playing days, looking up and seeing his name on the facade of the upper deck.
No matter what other honors he received for his career, in this city he would belong to the ages.
That's worth more than any contract. That's a legacy. That's what could be in Thomas' future now that a difficult offseason is in the past.
And given what he's accomplished already, there's little doubt that with good health, he can join those hallowed names. With his contract signed, he can focus on greater goals: leading his team to a world championship, and consolidating his status as the best receiver in the sport.
Take a look through Demaryius Thomas' career as a Denver Bronco, including his milestones.