DENVER -- **With the clock draining in regulation, the defense found itself in the situation in which it flourished so many times in the last two seasons: backs against the wall, protecting a slim lead.
Time and time again, it came through -- and three times succeeded in the exact scenario it faced Sunday night against Kansas City: up eight points, with the opponent needing a touchdown and a two-point conversion to tie it up and force overtime.
In Chicago last November, against the Patriots in the 2015 AFC Championship Game and against the Chargers last month, the defense got it done.
This time, the Chiefs drove 75 yards in 13 plays, wiggling out of second-and-17 and later converting a fourth-and-10 pass en route to a 3-yard touchdown pass to Tyreek Hill. This time, Denver's defense gave the Chiefs 15 yards on three penalties, two of which gave them automatic first downs. This time, Alex Smith found Demetrius Harris in the end zone for the game-tying two-point conversion.
And then in the ensuing overtime, the Chiefs gashed the Broncos some more. On two series, they faced just one first down. The Broncos gave the Chiefs 10 more yards on two penalties.
"We beat ourselves," CB Chris Harris Jr. said.
Denver held the Chiefs to just 3.6 yards per play and 3.8 yards per pass play, sacked Alex Smith six times ... and still lost, 30-27, in part because the defense could not push Kansas City off the field as it had done to so many other teams in the game's dying moments.
"The coverages were great calls. It was just us," Harris said. "We didn't execute the call. It's like we just went brain-dead as a defense on that last drive."
Added OLB Shane Ray: "When we look at the last drive, we hold ourselves accountable for that. That's a tough feeling."
Fatigue seemed to take a toll on both defenses late and in overtime. With the exception of a regulation-ending kneeldown, the final six possessions of the game went thusly: Broncos touchdown, Chiefs touchdown, Broncos field goal, Chiefs field goal, Broncos missed field goal, Chiefs field goal.
The Chiefs averaged just 12.2 net yards and one first down on their first 10 non-kneeldown possessions. On their final three, the Chiefs' averages spiked to 51.0 net yards and 4.3 first downs.
But Head Coach Gary Kubiak refused to use the notion of exhaustion that as an excuse.
"Gassed? That doesn't matter," he said. "Everyone is tired playing in that game. That was a great football game. You just have to muster it up and find a way to make the play at the end. I know they're disappointed that we didn't do that."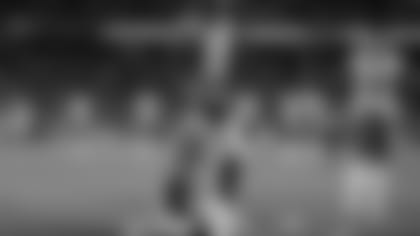 "We're sick," added Harris. "We had the game in control. We played great defense until the last drive [of regulation]."
Most distressing of all -- it's happened two games in a row. The Saints drove downfield to what could have been a game-winning touchdown, if Justin Simmons and Will Parks had not tag-teamed for the game-winning block and return of Wil Lutz's extra-point attempt.
"We went brain-dead on that drive," Harris recalled. "We could have lost that game.
"Two [games] in a row, the same thing happened, and we've got to fix it."
The Broncos' hopes of making their sixth consecutive playoff appearance could depend on doing precisely that.
The Broncos are locked in a tight defensive battle with the division rival Chiefs. (photos by Eric Bakke unless noted)