WASHINGTON, D.C. --It wasn't just a visit to the White House. It was a reunion of the 2015 Broncos and a chance to look back and celebrate their Super Bowl 50 win together.
"This kind of is a chance to get everybody back together, spend a day together and recall what exactly happened that day," Head Coach Kubiak said. "It's something that you'll cherish for a lifetime."
Of course, the reality of the NFL, circa 2015, is that championship teams don't stay completely intact. So while the current Broncos -- plus retired players like Peyton Manning and Tyler Polumbus -- flew from Denver on Monday morning, a smattering of players no longer with the team convened from parts near and far in the lobby of the W Hotel across the street from the Presidential residence.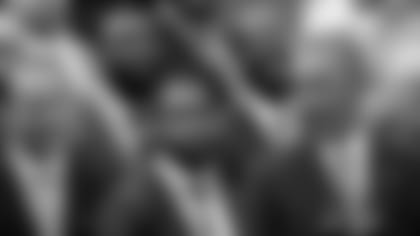 Brock Osweiler, Louis Vasquez and Evan Mathis were not on hand, but most were. Among the group were the three Bears -- Aaron Brewer, Omar Bolden and Danny Trevathan -- and two players who didn't have to travel very far -- Redskins signees David Bruton Jr. and Vernon Davis.
Tight end Owen Daniels, who lives in Houston, simply exchanged one humid burg for another when he flew to Washington. So did Malik Jackson, toiling in the stifling heat of northeast Florida for the Jaguars.
They came from New York, Pittsburgh and Green Bay, among other spots. And soon, in a security screening area just a long Peyton Manning pass from the Ellipse, the merry band that was the 2015 Broncos was back together.
Hugs and laughter abounded as the former Broncos reunited with each other -- and their old teammates still wearing the orange and blue.
"That was really special," Kubiak said.
Kubiak added that as he walked through the upstairs rooms of the White House on the team's tour, he pondered the fleeting nature of today's NFL with Head Athletic Trainer Steve Antonopulos, the Broncos' longest-tenured employee.
"I said, 'You know, you don't realize the magnitude of change in the NFL until you go through something like this,'" Kubiak said. "We're missing, what, about 10 to 12 of our heartfelt teammates. But they're with us today."
Monday's visit to the White House served as a reminder that while teams might come and go, these 2015 Broncos will always be remembered as a collective, with bonds that time and changes of address will never fray.
"That's a moment that we'll always be able to carry with us for our entire life -- that football team," Kubiak said.
From interacting with Wounded Warriors to meeting the president of the United States, the Broncos' visit to the White House was a memorable experience. (photos by Ben Swanson