ENGLEWOOD, Colo. --The last team to defeat the Cincinnati Bengals in their home opener was the Broncos in 2009, thanks to the famous Brandon Stokley catch-and-run with a tipped Kyle Orton pass in the final minute. Since then, the Bengals have not only won every home opener, but they have built a six-game September home winning streak following a 13-8 loss to the 49ers on Sep. 25, 2011.
That streak has been brought up constantly the last two days -- from players and coaches. It is a reminder of the quality of their opponent and the difficulty of winning on the road.
To succeed, the Broncos will have to be stout up front, and that's where the Thursday roundup begins.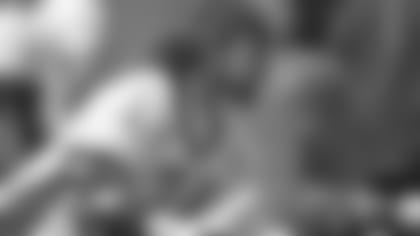 1. SAMBRAILO "FEELING GOOD" AS HE PREPARES FOR RETURN
Ty Sambrailo hasn't taken a game repetition of any kind since this same week last year, when he tore his labrum in a 24-12 win at Detroit, ending his rookie season after just three games. But after an offseason of recovery, followed by a training camp that saw him suffer an elbow injury on the fourth day of practice, he is finally ready for his return.
"I'm excited to get back out there and kind of change what this anniversary means, I guess," he said. "I'm excited to go play."
Head Coach Gary Kubiak mentioned Wednesday that he could use a rotation to fill in for Donald Stephenson, and that he expected to play every offensive lineman on the active 46-man gameday roster.
That could be the wisest course of action, especially if getting Sambrailo up to speed is a part of that plan, given how much time he has missed.
"You have to remember that Ty being ready to go this week, it's his first time out," Kubiak said. "We have to make sure that we massage that situation like we do with any player. The good news is we've had three guys play out there, so we're going to be tested here without depth. We have to find a way to make it work."
PLAN FOR FILLING IN FOR STEPHENSON STILL IN FLUX**
If it is a rotation, it could call to mind how the Broncos shuffled Ryan Harris and Tyler Polumbus at left tackle last year in the wake of Sambrailo's torn labrum.
"We don't know who's going to be out there, but we know we'll have five and we'll they'll go out there to compete and play hard," Offensive Coordinator Rick Dennison said.
"We'll just find the right five out there. Not sure which five it'll be right now, but that's why we practice," he added later.
Added Sambrailo: "I think we've got a lot of depth and we've got a lot of similar players, so it's not as bad when someone needs to step in and contribute."
Sambrailo isn't worried about the chemistry and cohesion, either.
"In terms of chemistry, I think we'll be just fine," he said. "We've been hanging out all the time, spending a lot of good time together and [having] a lot of fun, so we know each other, we know how we work, we like to have fun and go beat people up."
THE RECEIVERS WANT THE BALL -- AND THAT'S WHAT YOU WANT**
The comments from wide receivers Demaryius Thomas and Emmanuel Sanders about wanting the football thrown their way more often didn't ruffle Head Coach Gary Kubiak even in the slightest.
"Hell, you want guys that want the ball," Kubiak said.
One advantage of having coaches with plenty of NFL playing experience like Kubiak (nine seasons), Rick Dennison (nine seasons) and Bill Kollar (eight seasons) is an innate understanding of the NFL player's mind. Comments that some might think would cause problems actually have no effect when they reveal a player's competitive nature.
"I think they're competitors," Dennison said. "You watch them in practice; they compete every snap. You'd like to have 11 out there thinking, 'I want the ball to come my way.' That's a good thing.
"But the biggest thing is they work so hard in practice. You can see it every day. And they're trying to help us win. That's all we're asking for."
RAY, BARRETT "HAVE TO STEP IT UP"**
The defense held up well last year when Ware missed five full games because of back issues, and with starting-caliber reserves and Shane Ray and Shaquil Barrett, the Broncos are equipped to withstand Ware missing the next four to five weeks following surgery that left plates in his forearm.
Now is when the offseason work Ray and Barrett had on the first team must pay off. p> "They have to step it up to another level," Defensive Coordinator Wade Phillips said. "DeMarcus is a pretty high standard so we hope those two guys come in and give some kind of semblance of what we got from DeMarcus. They're working on it and they've played before."
They can be productive. But there's also the matter of replacing Ware's leadership, and not even Von Miller can do that.
"I can't replace what DeMarcus does," Miller said. "There is no way I can do that. I can be the best Von that I can possibly be. I've said it before, my thing is working with the young guys. If I can get to Shaq and Shane and have those guys pick it up five percent and fill that void for DeMarcus, that's where my leadership comes in."
KICKOFFS, AND FACING ADAM JONES**
One of the aspects in which every team is a "work in progress" is on kickoffs as they try to evaluate the impact of having touchbacks move a team to the 25-yard line. Some, like the Broncos, want their kickoff man to place the football outside the numbers and between the 5-yard line and the goal line, into what Special Teams Coordinator Joe DeCamillis calls "manageable space."
"It drifted a little bit on us in the first half," DeCamillis said. "That's going to be the big key at our place. You practice, practice, practice, but there's going to be that little bit of extra juice, and it went two yards deeper than we wanted."
That was at 5,280 feet above sea level. Cincinnati's Paul Brown Stadium, on the north bank of the Ohio River, rests 4,798 feet closer to sea level, so even if Brandon McManus blasts away, he might not get the kickoffs to out of the end zone -- and Cincinnati's explosive Adam Jones will return it from any spot in the field of play.
"If No. 24 is back there, which is Adam Jones, no ball is too deep," DeCamillis said. "So we'll probably see some of them coming out [of the end zone] this week, whether we keep it in play or not."
Photos from the Broncos' continued on-field preparation for Cincinnati. (photos by Gabriel Christus unless noted)