With a sprained AC joint and torn ligaments in his shoulder, Steelers quarterback Ben Roethlisberger is enduring a painful week, but has "a chance" to play, Pittsburgh head coach Mike Tomlin said at his Tuesday press conference.
Tomlin said he expected Roethlisberger to have limited participation when the Steelers hit the practice field Wednesday, with backup Landry Jones taking more snaps than usual.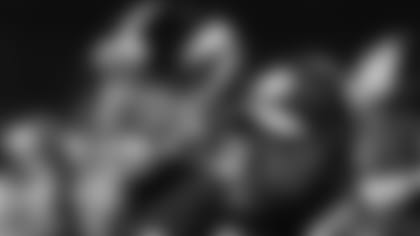 "We will manage [Roethlisberger] day-to-day. He will probably be a partial participant tomorrow to get his run game readiness ready to go," Tomlin said. "We will increase his activity as the week goes. Obviously, we will deal with him in an appropriate manner and let the quality of his performance be our guide in terms of his availability.
"That is going to provide an awesome opportunity for Landry to get the physical reps necessary to deliver for us if called upon."
Jones started two games at midseason and played in five others, completing 32 of 55 passes for 513 yards with three touchdowns and four interceptions for a 77.3 quarterback rating.
Jones briefly replaced Roethlisberger in the fourth quarter of last Saturday's playoff win at Cincinnati and completed two of five passes for 11 yards and was intercepted once. After Jones struggled, Tomlin opted to send Roethlisberger back onto the field to lead what would eventually be a game-winning drive, aided by the Bengals' emotional meltdown.
"The situation was dire and to be quite honest with you, I was banking on the fact that Cincinnati didn't know that he couldn't throw it further than 10 yards," Tomlin said.
Roethlisberger told KDKA-FM 93.7 in Pittsburgh on Tuesday that the pain caused him to shorten his follow-through, which prevented him from pushing the football downfield after his return.
Whether he plays will not be solely his call.
"His answer is just part of the equation; that's what the medical experts are there for," Tomlin said. "I'm no medical expert. I think it all starts with their expertise and their opinion, because I'm not a doctor and Ben's not a doctor, and we both respect that."
UPDATING ANTONIO BROWN:**
Wide receiver Antonio Brown remains in the league-mandated post-concussion protocol, whose steps mandate a gradual return to work with examinations by team doctors and an independent neurologist and evaluations that follow a day after each step of the protocol.
"I don't have any updates in regards to that other than the fact that we respect the protocol. We are going to adhere to it and follow it to the letter. He is going to participate fully in it. We will see where it leads us," Tomlin said. "We are always hopeful."
"As I sit here, the thought of working without A.B. is not a pleasant one," Tomlin added later, "but we'll see where it takes us."
Tomlin said that Peyton Manning's return to the starting lineup and his impact on the game -- particularly in how he runs the offense -- is going to "dominate our thoughts as we prepare" for Sunday's game.
"He is a first-ballot Hall of Famer-type," Tomlin said. "So, when you play those types of guys, they are unique. There are certain things that they do that are unique that others don't. It's not downgrading the capabilities of others, it's just that they are special people in the football sense.
"He fits the bill in just about every regard. What he is able to do in terms of administering their offense is something to be dealt with, something to be respected."
Tomlin credited Manning with helping jar the Broncos' ground game to life in their Week 17 win over the San Diego Chargers. C.J. Anderson and Ronnie Hillman combined to amass 141 yards on 17 carries after Manning entered before two game-ending kneeldowns.
"Their run game picked up a week ago against San Diego when Manning came into the game, because of the knowledge, experience and insight that he brings," Tomlin said.
"He can look at a defense and get them in the correct protections. Protections, I am sure, get easier, when you have a guy like him. The run game gets easier. The things that he is able to do prior to the snap to undress defenses, to gather information, to make the journey easier for an offense needs no endorsement from me. We have to deal with it this week."