In his brief NFL career, Teddy Bridgewater has already stared across the line of scrimmage at some elite pass rushers: Julius Peppers, Jared Allen, Ndamukong Suh, Mario Williams, Marcell Dareus, Gerald McCoy, Charles Johnson and Cameron Wake.
But no pass rush has the potential to cause the young Vikings quarterback as much disruption as the Broncos, led by DeMarcus Ware and Von Miller -- and Bridgewater knows it.
"Those guys are fast and they get off the ball very fast," Bridgewater said. "They do a great job of timing the snap counts. They're real sound and we know that that defense runs through those guys. Those guys play with a ton of confidence.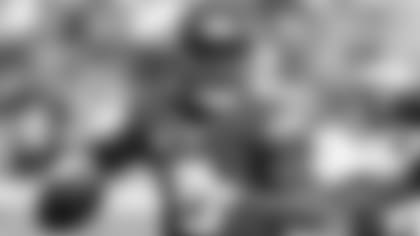 "We know it's going to be a challenge for us up front and even on the backend those guys are playing some great football, also. We're going to come out, practice today, we're just going to approach this game with the mindset that we have to go in, be physical and play fast."
And, of course, get the football to running back Adrian Peterson as much as possible. Having the perennial Pro Bowler back has helped the Vikings' offense, but Bridgewater's maturation in reading the defense at the line of scrimmage has also helped. This is the area in which Bridgewater feels he's made the most progress.
"There's some times in the run game and things like that, whether it's making the right checks, getting us out of bad plays and getting us into the right plays. It comes with studying film, studying the game plan," Bridgewater said. "Our coaching staff does a great job, especially [Vikings offensive coordinator Norv] Turner, do a great job of calling plays that we're comfortable running and giving us the opportunity to play fast."
And when the ground game gets going, Bridgewater has more time to throw. Through a Week 1 loss to San Francisco, Bridgewater was sacked once every 10.75 pass plays. In the last two weeks, when Peterson has rushed for 260 yards, he's been sacked once every 22 pass plays.
"I'm in a position right now where we have so many playmakers that if I hand the ball off, as you all saw this past Sunday (against San Diego), that we have an opportunity to score a touchdown," he said. "If we can complete a screen pass on the outside to a wide receiver, it has a chance to be a big play. I'm in a position where I have a ton of weapons at my disposal, I just have to make the best of it."
NORV TURNER KNOWS BRONCOS' D IS MORE THAN JUST THE PASS RUSH**
The former Chargers head coach knows the Broncos from a historical perspective from coaching against them twice a year for six seasons from 2007-12. But just four Broncos defensive starters were on the team the last time Turner faced them as a head coach.
What he sees from Wade Phillips' defense is what you've seen the last three weeks: aggression.
"They play a lot of man [coverage]," Turner said. "They play a very aggressive man and they can do that obviously because they've got an outstanding rush. You look at the teams they played, they gave Baltimore and Detroit -- you look at those two games -- and they gave them a lot of problems because they can rush and they can cover.
"And those two cornerbacks (Chris Harris Jr. and Aqib Talib) have had a lot of success in this league and made a lot of big plays in this league."