RAMIREZ READY FOR FAMILIAR CHALLENGE
Lions left guard Manny Ramirez grappled with Von Miller, DeMarcus Ware, Sylvester Williams, Malik Jackson and other Broncos front-seven players in practice, so he knows better than anyone on Detroit's roster about the challenge the Lions face Sunday night.
"They're a pretty good defense, especially the front seven," Ramirez said to Detroit-area media. "The challenge is all the way across, no matter who they bring in."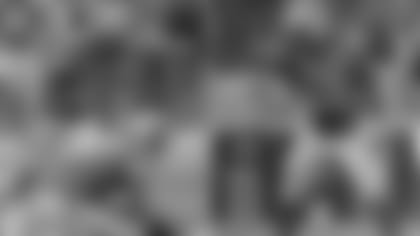 Ramirez's four-year stint with the Broncos ended on the first day of this year's draft, when the Broncos moved up five spots in the first round to select OLB Shane Ray.
"It's kind of different just because I've played there for so many years, but I'm focused where I am today, making sure that this team is successful and that we're able to get back on track. It doesn't really matter who we're playing. It is the Broncos, but we have to make sure that we get back on track ourselves."
Ramirez started each of the Lions' first two games at left guard, a position he last started in 2009, when he was in the third season of his first Detroit tenure.
In four seasons with the Broncos, Ramirez started 27 games at center and 20 at right guard, including the second half of last season after a midseason line shuffle.
FOR PRATER, 'NO HARD FEELINGS'
Nearly a year after being released by the Broncos at the end of a four-game suspension, Lions kicker Matt Prater isn't looking back with anger at how his Denver tenure ended.
"There's no bitterness," Prater told Detroit-area media this week. "I'm appreciative of the opportunity they gave me. I was there for eight years and had a lot of great memories and won a lot of ballgames out there. I have no hard feelings.
"I just try to remember the good times -- some of the kicks I made and some of the wins," he continued. "We went to a Super Bowl, which not a lot of people have done, obviously. I had great relations with the three head coaches that were there (Mike Shanahan, Josh McDaniels and John Fox), along with the special-teams coaches. It will be nice seeing everybody."
Since parting ways, the Broncos and Prater have enjoyed comparable production.
Prater has hit 82.8 percent of his attempts (24-of-29, including postseason) since joining the Lions. The two kickers to handle placekicks for the Broncos since Prater's last game -- McManus and Connor Barth -- have hit a combined 86.1 percent of their field-goal attempts (31-of-36, including postseason). McManus is 14-of-18 in the last two regular seasons (77.8 percent), but is 13-of-15 (86.7 percent) this year, including preseason, since removing a "jab step" from his run-up.
Prater handled kickoffs during his Broncos years but no longer has that responsibility in Detroit. Punter Sam Martin has that duty for the Lions, with four touchbacks in nine kickoffs so far this season.
Denver will always remain a part of Prater; it's his permanent residence. Friendships with former teammates linger. But they won't be on his mind Sunday.
"I'm all about Detroit now and doing whatever I can to help us win games," Prater said.
And his head coach expects no emotional residue from Prater seeing his former team on the opposite sideline.
"He's a pro. These guys don't go through the type of true emotional swings that you would anticipate," Jim Caldwell said. "I mean, this guy has been through a lot of football games, and he's played against ex-teammates and [had] other things that could have stirred him emotionally, as well. So this game, I don't think it will make that much difference to him."