ENGLEWOOD, Colo. -- **Von Miller wasn't viewing the decision to use the franchise tag on him as a setback, and neither will the Broncos.
"Whatever it takes to get it done, I'm down for it," he said Monday night when he joined NFL Network's Total Access for an in-studio appearance, and given the Broncos' past success in getting franchise players signed to long-term extensions, there is ample reason to believe both sides will come together for a long-term deal in the coming months.
Broncos Executive Vice President/General Manager John Elway met with Miller's agent, Joby Branion, at the NFL Scouting Combine in Indianapolis last week and described the talks as "positive."
"I think he's done a real nice job with how he's handled everything and I just think that he's a guy we're going to keep around," Elway said last Thursday, "so we'll get something figured out."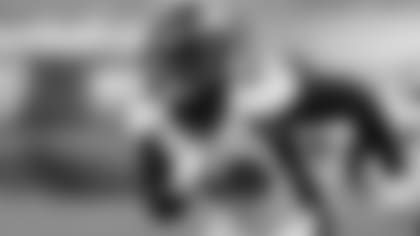 The Broncos have used the franchise tag in four of the last five years, eventually getting kicker Matt Prater (2012), left tackle Ryan Clady (2013) and wide receiver Demaryius Thomas (2015) signed to long-term contracts of at least four years apiece.
But in none of those instances did they use the exclusive franchise tag, as they did on Miller. In fact, no team has used the exclusive tag since the New Orleans Saints gave it to quarterback Drew Brees in 2012.
Prior to the passage of the current collective bargaining agreement in 2011, the exclusive tag was used on an occasional basis. That year, the Eagles placed it on Michael Vick and the Colts used it to retain . At least one player got the exclusive tag each year from 2007 through 2011.
For now, Miller's tag ensures he will count $14,129,000 toward this year's salary cap. If the Broncos and Miller can come to an agreement on a long-term deal by July 15 at 2 p.m. MDT, that value would be altered to reflect the 2016 cap value of the the contract.
Elway and the Broncos have planned for Miller's extension for a while, ensuring the cap space and cash budget to make it happen. The six-year, $101 million contract Kansas City gave to OLB Justin Houston last July offers a template, although Miller's deal is likely to exceed that after his five-sack, two-forced fumble and one-interception rampage through the postseason, capped by a Super Bowl MVP award.
Given the Broncos' history with tagged players and Miller's desire to remain with the team, it would be a surprise if a deal is not reached, perhaps sooner than the deals with Prater, Clady and Thomas, all of which came in July of those years.
"I have never been franchised before so I can't really say, 'Hey, I don't want to be franchised; I don't want to do this,'" Miller said Monday on NFL Total Access. "I can tell you what: I want to be with the Denver Broncos."
"I want to be with Derek Wolfe, Chris Harris, all those guys, DT [Thomas]. I want to be with those guys my whole career, and whatever it takes to get it done, I'm down for."