ENGLEWOOD, Colo. -- **You can't sugarcoat the loss of left tackle Ryan Clady to a torn anterior cruciate ligament, an injury that will likely end his 2015 season three and a months before it would have begun.
Although he had some difficulties last year as he worked his way back from the Lisfranc injury that ended his 2013 season after two games, his foot strengthened as the year progressed, and by the end of the regular season played without pain. Another offseason, he figured, would get him back to health. Further, the return to a zone-blocking intensive scheme for which he was drafted in 2008 was expected to help him return to the All-Pro heights he reached earlier in his career.
All of that is out of the window after he tore his ACL during the first practice of OTAs. That robs the offensive line of one of its twin pillars around which Head Coach Gary Kubiak, Offensive Coordinator Rick Dennison and line coaches Clancy Barone and James Cregg planned to reconstruct a unit that lost two 2014 starters to free agency and traded a starting guard, Manny Ramirez, to Detroit on April 30.
"If you're in this business, playing or coaching, and you've been around for a while, you're going to face very difficult things like this," Kubiak said. "How you respond to them has a lot to do with what you end up being, what your football team ends up being."
Hope rests in the fact that the Broncos' offensive line held up well without Clady in the record-setting 2013 season, with Chris Clark doing yeoman's work at left tackle throughout the year. The unit buckled against the Indianapolis Colts in Week 7 when it had to play without then-starting right tackle Orlando Franklin. But it didn't finally give way until until Super Bowl XLVIII, when the Seahawks attacked Clark and Franklin, overwhelming the edges and disrupting Peyton Manning, leading to a pair of first-half interceptions.
Even without Clady in 2013, that offensive line still had veterans all around. The youngest starter, Franklin, was in his third season. Only one of the five starters was not with the Broncos the previous year, and that lone newcomer, Louis Vasquez, was one of the big-ticket free-agent acquisitions of that year and finished as a first-team All-Pro.
It's different now. With Clady injured, the Broncos are virtually certain to have just one returning first-teamer from the final 2014 depth chart in the lineup: Vasquez, who moves back to right guard from right tackle.
"They're not going to stop the game or give us a mulligan or [anything]. We're expected to play," Dennison said.
At least 60 percent of the Week 1 starting offensive line will be comprised of players who have never started for the Broncos before.
"We've got some young guys that are going to have to accelerate their process here," Kubiak said. "Clancy and James will do a great job with them; Rick will do a great job with them, and it's a tough road, but it's one (where) you've got to step up and meet the challenge."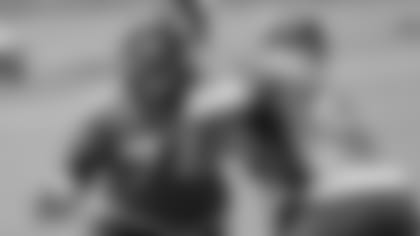 The young members of the group will have to grow up fast -- perhaps none faster than second-round pick Ty Sambrailo, who worked at left tackle during Thursday's organized team activity in the wake of Clady's injury.
"He's a very athletic young man. That's a lot to ask of a very young player," Kubiak said. "But we've got a good month here of work. I sat down with Rick and Clancy and James, and we felt like, 'Let's start working him there today.'"
Sambrailo played the majority of his Colorado State snaps at left tackle, so he brings some knowledge to the position. But the plan, since scuttled, was for him to work at right tackle behind Clark during OTAs, manning a spot at which he saw some work at CSU and during Senior Bowl week in January.
"In their system that they ran (at CSU), he played the quick side and the strong side, so he's done both (right and left tackle), and he's very bright," Kubiak said. "As I've said to you many times, he's going to be a quick study from a football standpoint (and) a knowledge standpoint, and that's been evident.
"But, hey, he's not a rookie anymore. As of today, he's about a four-year player. So we've got to get him going."
And the sooner Sambrailo works at left tackle, the sooner he can learn -- and the quicker the coaches and personnel executives can see whether he is a potential answer or if they have to look elsewhere on the roster, or perhaps to the open market for a short-term answer if the need arises.
"We've got (12) more opportunities to get on the field this offseason, (so), hey, let's do it right now. Let's put him over there; let's see how he practices; let's see how he does, and let's not waste any more time," Kubiak said.
But nothing is finalized -- and that might remain the case through training camp.
"We'll move them around (in) practice. We don't have to play until September, so we're not in a huge rush," Dennison said. "We just want to give everybody an opportunity to compete and see which five(-man unit) is the best to go in the game with."
The mixing, matching and experimentation could extend to the Broncos' four-game August warm-up slate.
"Preseason, I couldn't care less what (the lineup is). There could be a lot of question marks," Dennison said. "But we're going to go in the first (regular-season) game knowing what we're going to do.
"I hope there's competition through camp," Dennison added. "We don't want to have anything etched in stone. I think those guys really need to work and play, and even in a (preseason) game -- game situations are really key for us, especially with our system and how we work together. I think that's important -- game speed, playing against other players."
Schofield saw work at left tackle Wednesday and will continue to get repetitions on both sides. Clark will remain at right tackle, where he started for the Broncos' first five games last year. He struggled, but earlier this offseason Kubiak said he would give Clark a clean slate to re-establish himself.
"They're going to move around," Kubiak said. "Those guys have to play everywhere … All of those guys are going to have to be interchangeable, and we'll see what happens from there."
Added Dennison: "Everybody will get a chance to play."
Clark has the advantage of experience -- 31 career starts, including four in the postseason. He's seen it all, starting at left tackle, right tackle and as an extra tackle lining up as an eligible tight end. With that experience comes leadership; with Clady injured, that commodity is scarce.
"I'll pull him alongside with me and have him help me tow the group where we need to go," said Vasquez.
Schofield and Sambrailo have zero regular-season or postseason snaps between them and need all the work they can get in their development.
"I think they're both developing," Dennison said. "They're learning. You see every day that there's something else that they learn how to do or understand what's going on -- and communicating with the guy next to him. That's always been a big deal for me. The five of them have got to work well as a unit.
"When you move guys around, I think that's important. They get an understanding of what the guy next to them is doing, and I think both of those guys have a good relationship with the rest of the guys up front."