Training camp got underway on Wednesday, and fans were able to return to UCHealth Training Center to watch the players prepare for the season. Many were excited to see the new coaching staff, new players and, most of all, new quarterback Russell Wilson.
The importance of having Broncos Country cheering on the team in person was not lost on the players, who shared their gratitude for the fan support.
"Just to be out here with the fans for the first time at a practice, you can feel [the energy] already," Bradley Chubb said.
Added Jonathon Cooper: "I think it's awesome. I think it's amazing. Just seeing everybody, seeing the energy and stuff, actually being back out here and playing some football."
Here are a few of the fans who came out on the first day of training camp: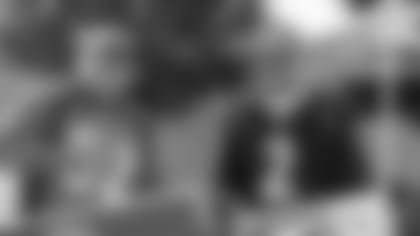 Jordan and Jarold may be the most dedicated fans in Broncos Country. The first fans to arrive to training camp, they lined up at 5 p.m. on Tuesday and spent the night outside to guarantee the best seats in the house. The duo makes it their goal to be first in line every year, and they are not afraid to camp out for that honor.
Jarold, an avid fan of Pat Surtain II, hoped to meet the second-year cornerback during training camp: "I've got his jersey, I've got signs. I'm a big Alabama guy."
Jordan looked forward to seeing Head Coach Nathaniel Hackett in his first year leading the team and experience his intensity in real life.
"I want to see what he brings to the field and how he brings these players up," Jordan said. "See the excitement that he has, I see it in press conferences [and] on the field."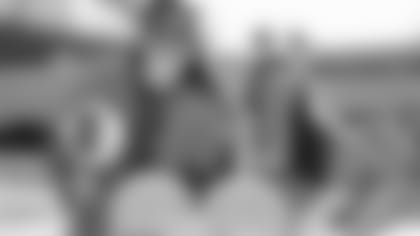 Broncos superfan Mile High Prophet went all out with the attire for training camp. He and Mile High Missy hoped to get signatures from Wilson after practice, and they viewed camp as one step closer to the Super Bowl.
"I was called upon by the provider to be His messenger onto Broncos Country, to spread His word," Mile High Prophet said.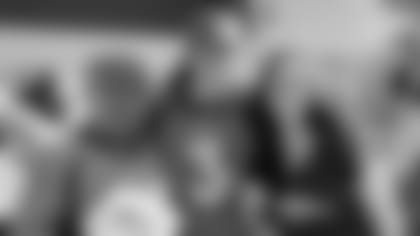 No distance was too daunting for Les, Steve and Adriana, who came all the way from Phoenix to watch the Broncos. Wanting to be some of the first fans in line, they arrived at UCHealth Training Center at 4 or 4:30 a.m.
Adriana hoped to meet wide receiver Kendall Hinton.
"I think he's so cool, I really want to meet him if I can," Adriana said.
The trio is excited about the new season, and they anticipate a strong year with wins against the Chiefs and Raiders.
"New coaching staff, new quarterback, just a new vibe," Les said.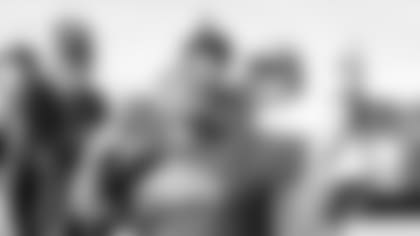 Broncos Country is officially bringing lucha libre to UCHealth Training Center. Elias, or "Bronco Libre," came to training camp with Archie and Pat to see the Broncos back in action.
Elias enjoyed watching the dedicated Broncos fans come together "for one common theme, which is Broncos football."
Pat was confident in the Broncos' ability to take the division title.
Archie's message was simple: "We need to beat them Chiefs!"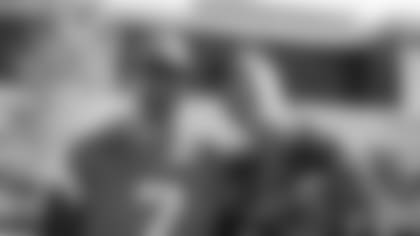 Father-in-law Tom and son-in-law Marc have been coming to training camp together for many years and have even been first in line a few times. Tom started bringing his kids in 1988, and it's been a family tradition ever since.
Each year, Tom and Marc pick a specific player to watch throughout training camp — usually a rookie, or someone who has to stand out in order to make the final roster.
"We always pick a player that is under the radar that we want to watch and see, 'Hey, can they make the team, can they make an impact?'" Marc said. "Haven't decided who that is, we'll figure that out today."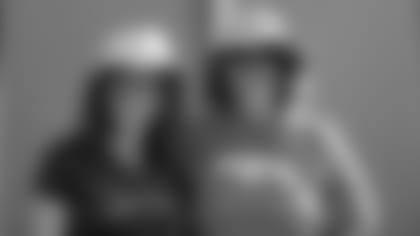 Harlie and her mom Jennifer are lifelong Broncos fans. Harlie has attended many Broncos games because her uncle is a season ticket holder, but this was her first time at training camp.
"I love Broncos Country and just to have the fans around us," Harlie said. "I'm back in Colorado for the first time in, like, 10 years, it's great. I love it."
There's no better birthday present than seeing the Broncos on your big day. Misha and Jaxon have been fans their whole lives, and they looked forward to seeing the Broncos play and getting their first look at Wilson.
"I think the team's going to be really good this year," Misha said. "We're going to finally beat the Chiefs."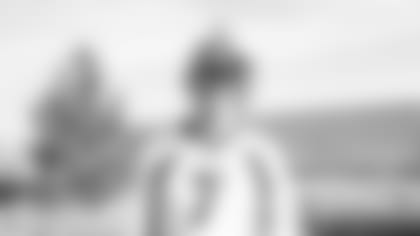 Vic noted that he has high expectations for the Broncos this season and looked forward to watching them practice. To him, the energy at training camp feels like a true game-day experience.
"All the fans, it's almost like it's a game," Vic said. "People have some signs, jerseys, I can feel the first energy of the NFL season."
He has owned his horse hat for over 15 years and wears it to every game.