ENGLEWOOD, Colo. --At this point, the surprise will be when an official's flag does fly as Von Miller gets held by an opposing blocker.
Holding is a standard part of trying to keep Miller out of the backfield. Such penalties are often left uncalled; as anyone who watches enough football knows, not every holding infraction is going to end in a flag.
But it's slightly unusual that the Broncos have seen their opponents whistled for fewer offensive holding penalties than anyone else in The league. There have been just five holding penalties called for opponents grabbing Broncos defenders this season; one of them was declined and another was part of offsetting penalties.
That's an average of 0.5 holding penalties called against Broncos opponents per game. According to NFLPenalties.com, each team is called for an average of 3.46 offensive holding penalties per game, so it seems a bit unfathomable that Broncos foes have been whistled so few times.
No Bronco has been obstructed more than Miller. But he has nevertheless managed 19 quarterback hits, six sacks and 37 quarterback hurries, third-most in the league per ProFootballFocus.com.
To his credit, Miller doesn't worry about it -- and refuses to be frustrated by the lack of official notice of the times he's held.
"I try to forget about the play, and just keep moving and just try to progress through the game, [and] just take it one play at a time. That's what keeps me level," he said. "If I keep thinking about the last series, it won't let me evolve as the game evolves and help me get my rush going. So I just try to play."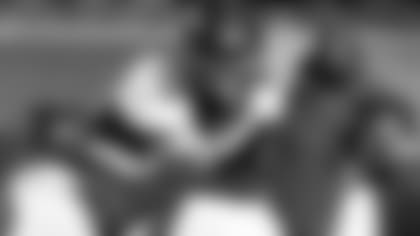 Miller's sack of Jay Cutler in Chicago last Sunday provided an example of how he succeeds despite contact that goes over the line.
Bears left tackle Charles Leno Jr. appeared to get his left hand into Miller's face mask, but the unfazed pass rusher kept on chugging for the strip-sack fumble that Malik Jackson recovered.
"I got the sack, so whatever happened before that [does not] even matter," he said. "It's all good."
And Miller knows that even with the uncalled holding penalties, the right people notice what he's doing, even if it doesn't show up in the final sack count.
"I just learned from an early age not to go out there and call for it. I think my play, and when everybody turns on that film, that's where you get the respect from," he said. "I'm not out there looking for the respect of the fans and all that stuff. I'm out there for players and everybody who turns on that film -- that's where you get the respect from.
"My time will come. I've just got to keep on rushing the quarterback. You know, we've got a real good secondary; [Aqib] Talib is playing out of his mind right now, T.J. [Ward] and Chris [Harris Jr.] and all those guys are playing insane right now. I'm just going to try to make him get the ball out quick, and as long as he's doing that, we're good.