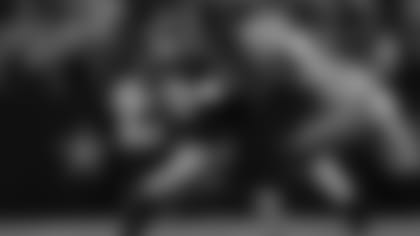 ENGLEWOOD, Colo. --In a stacked group of rookie tight ends that was the best in recent draft memory, Evan Engram was near the top of the class.
Of the 14 tight ends selected, only O.J. Howard went off the board before Engram, going to Tampa Bay four selections before the New York Giants procured Engram with the 23rd pick of the first round.
At 240 pounds, Engram's agility makes him more like a big wide receiver than simply a tight end, and there are elements of both positions in his play. At the Senior Bowl in January, Engram said he studied Cardinals wide receiver Larry Fitzgerald and Broncos Hall of Fame tight end Shannon Sharpe to hone his route-running technique.
"He moves like a receiver. At one point, I thought he was a receiver from watching film," safety Will Parks said. "He's pretty athletic, he's got good hands, good routes and can use his body well, so there's a lot of things he can do."
With the Giants' receiving corps rocked by season-ending injuries to Odell Beckham Jr., Brandon Marshall and Dwayne Harris and looking at the potential absence of Sterling Shepard on Sunday because of a sprained ankle, Giants quarterback Eli Manning could lean heavily on Engram, whose 19 catches for 200 yards pace healthy Giants players.
"That might be one of the ways they try to attack since they lost a lot of their wideouts," cornerback Aqib Talib said.
"He's a problem," Defensive Coordinator Joe Woods said. "He is a tremendous [player]. He's really a receiver playing tight end. You can see the explosiveness in his movements. He can win at the top of routes and create separation.
"There are a few things that we're going to carry into the game that if we have any problems, we feel like we can take care of him."
Thirteen of Engram's 19 catches have come from the tight end spot, either out of a three-point stance next to the tackle or standing up just outside the tackle. He has also lined up at the slot receiver spot as well as the 'X' and 'Z' receiver spots on the outside. Engram's longest gain of the year, a 31-yard pickup in Week 1, came from the slot.
"What shows up is a guy who can create issues for you with a [line]backer or a safety, if you're not ready for that challenge," Head Coach Vance Joseph said. "If you watched the game last weekend, the third or fourth quarter, he's actually playing the 'Z' receiver. He looked very comfortable doing that.
"That's one thing that we have to prepare for, him being a receiver for the time and not being a tight end."
Engram can even work out of the backfield, which is where his only touchdown originated. In Week 2 against the Lions, he motioned into a fullback spot just behind the line of scrimmage, then shot forward at the snap, catching Detroit's linebackers and safeties off guard. No one picked Engram up as he sprinted through, and Manning found him for the easy 18-yard touchdown pass.
It would come as no surprise to see a similar dash of the unexpected with Engram Sunday as the Giants are forced to tweak their offense to compensate for the loss of Beckham, Marshall and perhaps Shepard, who amassed all of the receptions, yards and touchdowns to come from the Giants' wide receivers this season.
"We don't know what they're going to do; that's just part of the shock factor," Talib said. "So we've just got to prepare for everything and we know how dangerous [Engram] can be."
Flip through the Broncos' history with the New York Giants.