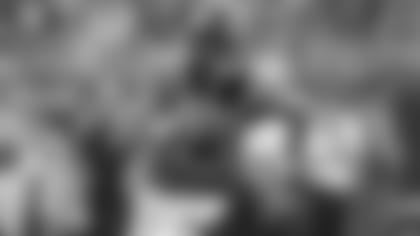 ENGLEWOOD, Colo. --When the Broncos march into Oakland for Sunday's game against the Raiders, they will do so with a new starting quarterback to go along with new Offensive Coordinator Bill Musgrave.
On Wednesday, Head Coach Vance Joseph named second-year passer Paxton Lynch as the starter for the Broncos' Week 12 game against the Raiders. Lynch will make his first start of the 2017 season, becoming the third player to start at quarterback for the Broncos this year. He will step in for Brock Osweiler, who started the previous three games.
Lynch, the Broncos' first-round pick in the 2016 NFL Draft, was inactive for the first nine regular-season games after suffering a sprained throwing shoulder during the Aug. 26 preseason game against the Green Bay Packers. He spent the next two months rehabilitating from the injury, then was gradually brought up to speed in recent weeks, increasing his workload and the distance at which he threw as he worked his way back.
Last week, he threw deep for the first time in practice since suffering the injury, guiding the first-team offense on passing plays during Wednesday's session while Osweiler rested to recover from a sore shoulder he suffered three days earlier against New England.
Lynch subsequently suited up for the 20-17 loss to the Bengals as the No. 2 quarterback behind Osweiler.
"[Lynch] is fine and ready to go. He had a good week last week," Joseph said at his press conference Monday.
Joseph said that day that the offense would be "simplified" no matter who started at quarterback, and the game plan would be tailored to Lynch's strengths if he was named the starter.
"That's on the coaches and myself if he does play for us to make have a system that fits Paxton," Joseph said Monday. "He's practiced the last two weeks. Again guys, it won't be soccer. It's football for him.
"What he's practiced the last couple weeks may be called a little different. It may be called more of the same stuff, but it's just football, so he'll be fine."
Lynch started two games as a rookie in 2016 and played from the second through the fourth quarters of another game at Tampa Bay in Week 4 of that season after Trevor Siemian left with a shoulder injury. Lynch threw for 497 yards and two touchdowns with one interception on 49-of-83 passing, and added 25 yards on 11 rushing attempts. He finished his rookie season with a passer rating of 79.2.
This year, Lynch split first-team practice repetitions throughout OTAs and training camp with Siemian through the second week of the preseason until Siemian was named the season-opening starter.