ENGLEWOOD, Colo. --New Head Coach Vance Joseph expects the retention of position coaches and the promotion of Joe Woods to defensive coordinator to allow the defense to build off its recent success under previous coordinator Wade Phillips.
"Keeping Bill Kollar and Reggie Herring intact, and Fred [Pagac], all those guys intact, this defense should not take a step back. It should take a step forward."
The basic principles of the defense will remain the same, but Joseph said there will be some "tweaks."
"I can't guarantee that it's going to be exactly in the same, but the foundation won't change," Joseph said. "Now can we add some different tweaks in coverage and front and pressure stuff? Absolutely. But most teams every year do the same thing. So it's going to be the same attacking defensive style you saw from Wade."
Joseph wants the offense to have a similar mentality, reiterating his desire for a unit that is "attacking, innovative [and] fast with tempo."
"First, we're going to put a great staff in place. We have so far," Joseph said, noting the hires of Offensive Coordinator Mike McCoy, Quarterbacks Coach Bill Musgrave and Offensive Line Coach Jeff Davidson. "All those guys are good guys with a lot of experience with different types of offenses, so that was a huge get as far as the staff."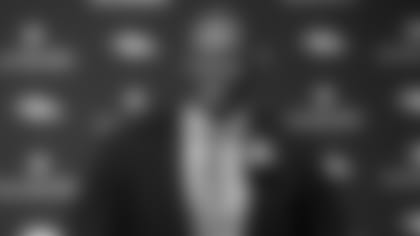 Getting McCoy was the first victory -- and first task -- of Joseph's head-coaching career.
"The first thing I did was call Mike McCoy," Joseph said. "I called Mike McCoy because I knew this: As a first-time head coach and defensive guy, my offensive coordinator was going to be a big-time hire. And I wanted Mike. I didn't want to lose Mike.
"So I sat down here and took a deep breath and went through the emotions of being the head coach of the Denver Broncos, and then I called Mike McCoy."
That call came just 24 hours after he interviewed for the position, capping a whirlwind week in which his travel plans changed, his life changed forever, and he got the job he coveted.
"I wasn't offered the job here in Denver [on Tuesday, Jan. 10], so Wednesday morning when I got dressed to go to the airport, John [Elway] stopped me, brought me back in the office and offered me the job," Joseph said. "I was heading to the airport, heading to San Diego and then after that heading to L.A. and San Fran.
"So I had some things rolling, but I knew if John offered me the job I would take it, because in my opinion it was the job that was most ready to win right now."