DENVER --The results were different, but the frustration was the same for the Broncos' offense as it concluded its work at halftime of Saturday's 19-12 preseason win over the San Francisco 49ers.
Unlike last week, the offense mounted some consistent drives. After a first-series three-and-out, the Broncos marched into the red zone on three of their next four possessions, including two drives that took 13 and 14 plays. But the Broncos mustered just two field goals for six of a possible 21 points.
A combination of first- and second-teamers that included QB Brock Osweiler scored touchdowns in Seattle and Houston, but the entire first-team offense finished its nine possessions over the last two weeks with six points, an interception, 18 first downs and 263 yards.
"Super frustrating," said RB C.J. Anderson. "You go out there and you put a good drive together, you move the ball well, and we're just not finishing, and that's just something we've got to go work on.
"We'll go back and look at the tape, we'll get better and we'll definitely be finishing Week 1, I can promise you that."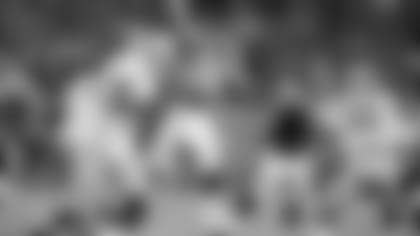 Peyton Manning finished the first half with 14 completions in 21 attempts for 124 yards. But he had one pass for Demaryius Thomas intercepted in the end zone by Kenneth Acker, and another to Thomas that was broken up by Dontae Johnson, forcing the Broncos to settle for their first field goal.
Manning was sacked three times, including two on blitzes by NaVorro Bowman that weren't picked up by the running backs. A third sack came when Corey Lemonier took advantage of good coverage and breached the pocket unblocked, with every blocker already engaged.
"[Bowman] timed up some pretty good blitzes so I kind of give them credit on those plays," Manning said.
In all three cases, Manning anticipated contact and headed for the grass before he absorbed a crunching hit.
The Broncos ran more plays under center than they did last week with the first-team offense; 26 of their 41 first-half snaps saw Manning work under center. Manning was 9-of-14 for 72 yards with an interception on shotgun snaps, and 5-of-7 for 52 yards with no interceptions working under center, but he was sacked three times as the 49ers cranked up their blitzes.
"I feel pretty confident from a coaching standpoint we can go fix those things," Head Coach Gary Kubiak said of the sacks from under center. "We're going to continue to do a lot of things offensively and we jus have to do some of them a lot better than we did tonight."
"I'm pretty comfortable doing that," Manning said of his work under center. "I've been doing that for a long time. I guess we've been in the shotgun a little bit more as of late but I've definitely played under center for a lot of my career so I feel pretty good doing that."
The Broncos' first team had as many first downs under center (seven) as from out of the shotgun. Their first-down rate was a bit higher from the shotgun (one every 2.14 snaps) than under center (one every 3.71), but they also ran much more often under center.
"I think we continue to run the ball pretty effectively. We have to make some big plays off of that," Kubiak said. "If you're going to do that, you're usually going to do that under center, selling the run and doing those types of things."