Sunday's 41-20 win saw the Thomases account for all four Broncos receiving touchdowns. We'll focus on one score for each:
Let's start with the 31-yard connection from Peyton Manning to Demaryius Thomas in the second quarter, in which the Broncos exposed the Cardinals' predilection for man coverage to get Thomas open at the 29-yard-line, just inside the numbers. It is a fait accompli that Thomas is going to make the reception cutting inside, while Wes Welker moves to the outside.
But what turns this play from a run-of-the-mill moderate gain into a touchdown is the speed at which Thomas accelerates. The only man who could prevent the receiver from getting a head of steam was linebacker Larry Foote, but he is too slow to react. Thomas gives a straight-arm, but it isn't necessary, and he's off to the end zone. Cornerback Patrick Peterson could have made a play, but he was occupied in coverage of Emmanuel Sanders, and reacts well too late to prevent the score.
The Broncos' fourth touchdown pass of the day -- a 12-yarder to Julius Thomas -- allowed them to gain some breathing room in what was a tight game, and was set up by good communication between Manning and rookie running back Juwan Thompson, who saw his most extensive offensive work of the season after Montee Ball's third-quarter groin injury.
Thompson was aligned close to the line of scrimmage when the Cardinals brought two linebackers in position for an A-gap blitz, but moved back a few steps after Manning called him back. The quarterback followed by pointing to Matt Shaughnessy, who was lined up to the outside of left tackle Ryan Clady.
The snap arrived, and the two linebackers over the A-gap dropped back. Meanwhile, Shaughnessy attacked from around the left edge, which was vacated when Clady moved inside. Thompson got low, took care of Shaughnessy and allowed Manning to locate the tight end on a fade route for the touchdown and a two-score lead.
SETTING EACH OTHER UP:Demaryius Thomas' 28-yard reception from Manning 3:49 into the fourth quarter wasn't his most explosive play Sunday, but it might have the greatest long-term impact for the offense, as it offered a glimpse of how he and Emmanuel Sanders can play off each other.
Exploiting a six-man rush from the Cardinals -- and set up by Wes Welker sprinting into Jerraud Powers and pushing him back five yards --Thomas crossed underneath Sanders, who was moving from right to left. Even though Cromartie steered clear of traffic and was not impeded, he still lost a step trying to keep pace, and when Manning delivered the football on target, that separation was enough for 27 yards after the catch.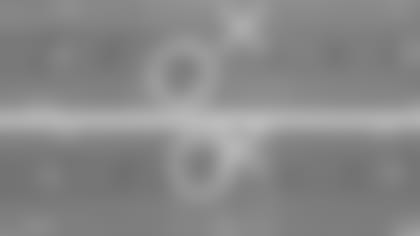 KICKIN' IT:The coming weeks will reveal much about Brandon McManus and the move to keep him and release Matt Prater. There are differences between the two beyond experience: height and run-up to the football on kickoffs.
McManus used to stand nine yards back from the 35-yard-line on kickoffs -- in the same general range as Prater, who stands between the 25-and 24-yard-line to begin building speed. But in the last two years, McManus cut his distance in half, for the sake of consistency.
"Before the game against Indianapolis, (NBC sideline reporter) Michele Tafoya came up to me on the sideline and said, 'I've never seen someone kick off from five yards away and kick it all the way through the back of the end zone.' She was asking how and why I do that," McManus recalled.
"I said that I was kicking at nine yards, and I'd either put them way out (of the end zone), or I'd squib them, just because each step with my long legs could be inches different on my plant foot, and that's just going to differ where I hit the ball every time, so I wanted to shorten it up."
"I know that I can kick a field goal almost as far as I can kick a kickoff. So I know that I don't need to be nine yards back, and I don't need to be all right there. That's a nice, comfortable spot, right around five yards, and I'm killing the ball, which is a good thing."
McManus leads the league in touchback percentage after four games -- three of which were in Denver. He has seven road games in the next 11 weeks -- including three that will be played within 100 feet of sea level. But he led the league in touchback percentage this preseason before joining the Broncos, so there appears to be little question about his distance, no matter the elevation.