DENVER -- Beyond the scoreboard result, there was plenty about which Broncos coaches could be satisfied in Thursday's 21-16 win over Seattle: the aggressive, but smart pass rush, power running, and overall resilience.
A few other aspects of the game jumped out, and in this week's edition of Upon Further Review, we'll dissect them.
In a way, the game-winning, fourth-quarter touchdown drive was the most important of Brock Osweiler's development to date. It came on the heels of an underthrown deep pass that was intercepted. If Osweiler's night had ended there, the taste in his mouth would have been bitter. Instead, he did what you expect quarterbacks as leaders to do: he shook it off, rallied the offense and made things right on the next series.
Three offensive snaps later -- and one play after pressure forced a quick incompletion -- Osweiler connected with tight end Cameron Morrah for a 14-yard gain on third-and-6. The Seahawks rushed five men, and the offensive line held its ground. Morrah cut inside, but Seattle safety Terrance Parks closed, and by the time the ball was on its way, was step for step with Morrah.
Osweiler has made this type of throw more in practice this year than in previous years. It makes him much less likely to hold on to the football. And it also reveals a growing confidence that is unaffected by a bad throw; he's still going to push the pass to a narrow window, and trust his ability to deliver an accurate pass with the zip to arrive before the defense reacts. He's not at a Peyton Manning level yet, but he's much farther along than at any point to date.
The other play that stood out from Osweiler -- besides the obvious, his 34-yard, in-stride touchdown pass to Jordan Norwood -- was his third-and-14 scramble. Osweiler has noted that he's able to process the chaos of a play faster, and can diagnose the defense's intent and react.
In this case, he adjusted his plans in a split-second. He adjusted his setting in the pocket to react to Cassius Marsh blowing past Ben Garland. As he eluded Marsh, he maintained his glance downfield and noticed the linebackers dropping deep into coverage, opening the underneath area. Osweiler had speed to spare to run for 15 yards, resuscitated the possession, and set up a touchdown one snap later.
Marvin Austin has been a revelation in training camp, as his health now allows him to be the defensive tackle he always had the  potential to be. But the Broncos' excellent depth at the position is bolstered by the veteran presence of Mitch Unrein, who is listed on the third team now but has value in excess of that status.
On Austin's third-quarter sack Unrein reads the situation perfectly. Before the snap, he lets Austin know of a change in plans.
"Mitch called out the protection and he actually switched it because I was going to be the penetrator and he was going to be the looper," Austin explained. "When he switched it, we just worked through it together and I came free, looked at the quarterback and was like, 'You're not going to throw the ball?' And I got the sack. It was pretty much Mitch."
Unrein's pentetration allows Austin to set up guard Greg Van Roten, who is completely out of position and has no chance once he's spinning around and out of position. Austin's acceleration is key to the sack, but it doesn't happen without Unrein crashing through from his right defensive tackle position, clearing a path for Austin to bring down Tarvaris Jackson.
The progress of Quanterus Smith and Kenny Anunike continued. For Smith, the preseason was old hat, even though he was not as healthy for last year's warm-up slate as he was Thursday. But Anunike had a different kind of experience: for the first time as a pro, the rookie faced quarterbacks as likely to beat you with their legs as their arms.
What was most encouraging about the young defenders' ability to contain Seattle's quarterbacks was their lack of offseason work against passers who use their mobility as often as Russell Wilson, Tarvaris Jackson and Terrelle Pryor. The challenge of Pryor was particularly keen for the reserves, since Pryor started nine games last year and averaged 6.9 yards on his 83 carries.
"It's a lot different than what I'm used to," Anunike admitted. "The speed, and obviously, the adrenaline is running, you're trying to make sure you know your assignment."
One example of this came on a play that proved vital toward the final result: a third-and-2 from the Denver 4-yard-line. Pryor takes the snap in front of an I-formation. Fullback Kiero Small and running back Demitrius Bronson veer to the right -- in Anunike's direction. As they do. Pryor rolls to the right. Anunike has to navigate between the fullback and the tailback, while not over-pursuing. If he attacks Pryor too fast, the quarterback can sprint around the right side for a first down or even a touchdown.
When Anunike does begin striking, he's already a step outside of Pryor. Bronson chips him -- a common tactic against Anunike on Thursday -- but he is speedy enough to keep his balance.
Anunike takes an angle that guides Pryor outside. By the time Pryor is closer to the sideline than the defensive end, he's back at the 10-yard-line, eight yards from the line to gain, and Tony Carter is in position at the 3-yard-line to the outside of Pryor.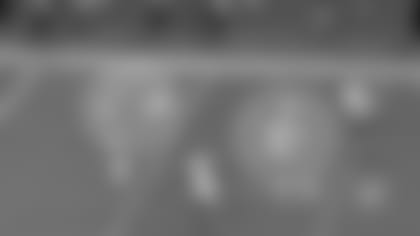 At this point, the play is dead; the quarterback is contained, and the Seahawks settle for no gain and a field goal.
Anunike's discipline serves him well against mobile quarterbacks, which enhances his skill set at this level, given the evolution of signal-callers. If he can avoid a recurrence of the injuries that nearly derailed his college career, his future in the NFL appears bright.