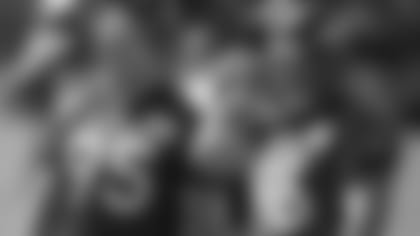 *

*Englewood, Colo. -- **The Broncos' defensive line will likely feature bookends Elvis Dumervil and Robert Ayers lining up at the defensive end positions.
At tackle, however, it's currently anyone's guess who Denver will start in Week 1 of the regular season. Denver's only returning starter at defensive tackle from 2011 is Kevin Vickerson, who started four of the first five games of the season before being placed on injured reserve.
Second-year defensive tackle Mitch Unrein, a homegrown talent from nearby Eaton, Colo., is one of several young players vying for time at tackle.
But with Vickerson, veteran tackle Ty Warren -- a starting defensive lineman on two Super Bowl-winning New England Patriots teams -- and 11th-year man Justin Bannan, a 16-game starter for Denver in 2010, the competition for time in the middle of the defensive line promises to be fierce.
Unrein, who has seen first-team reps early in training camp with Bannan limited due to a calf injury, will also be pushed by first-year defensive tackle Sealver Siliga and rookie Derek Wolfe, the first player Denver drafted back in April.
Unrein said he feels like a completely different player than he did two years ago, when he spent his first year in the league learning the ropes as a practice squad player for the Broncos after originally being signed by Houston as a college free agent.
"It's night and day," Unrein said. "The game has slowed down so much more for me. That's what's helping me read blocks and things like that. (Former Defensive Line Coach Wayne Nunnely) was my D-line coach when I first got here and that's what he really stressed -- reading your keys, technique, technique, technique. Now (Defensive Line Coach) Jay Rodgers, that's the same exact thing that he's trying to teach us. Coming off the ball, striking, read your technique, and as long as I keep doing that I think I have a really good shot."
Defensive Coordinator Jack Del Rio said that Unrein, who stands 6-foot-4 and weighs 291 pounds, makes up for being slightly undersized with effort and leverage. 
"I think he's pretty fired up about it," Del Rio said. "Again, like the other guys, they're all getting an opportunity, they're all getting plenty of reps. Mitch has done a nice job — he's undersized, so he's got to really work to have his pad level together and be able to anchor down where we need him to anchor. His effort is excellent. The passion he plays with is excellent."
Like the rest of his fellow defensive linemen, Unrein said that it felt great to finally go full speed in pads Saturday morning for the first time this offseason.
"I was really excited," Unrein said. "It felt like it was a game, with the nerves and everything. On the first day of pads, you don't really know what to expect. I think everyone came out here and played really good football (Saturday) for it being the first day in pads. We're just going to try to keep on building on that."
"We had good physicality out there, and everybody did their job," he said. "Really, that's all you can ask for."