With some of the best pass-rushing talent under his wing, Outside Linebackers Coach Fred Pagac has helped make the Broncos' edge rushers one of the most vicious defensive units in the league. In Super Bowl 50, Von Miller's performance earned MVP honors in the Broncos' 24-10 rout over the Carolina Panthers. Pagac, a coaching veteran of 38 years, is now in his second with the Broncos. In his first season, Denver finished at the top of the charts in nearly every category, including sacks (52). With the team leading the league in sacks through seven weeks, including 7.5 from Miller, Pagac sat down with us to talk about the accomplishments he's reached with the Broncos and the talent he coaches.
You've coached some pretty elite talent over the years. What's it like coaching guys like Von Miller and DeMarcus Ware?
It's a great opportunity. They're great kids — fun to coach. I've been coaching for a long time and I'm having more fun than I've ever had.
DeMarcus is the epitome of a leader that any coach would want on his team. What do you learn from him as a player?
You learn from everybody. When you're a coach, obviously, you do what players can do. You listen to them. If you have respect for them, you're going to listen to them. I have great respect for the group that we have and the group that we have.
Shane Ray is already starting to show the type of player he can become. What's a crucial factor in his growth?
He's just got to continue to mature. He's a young kid, and he has two great players in front of him. Hopefully, they're two great examples and they are. Von Miller right now is playing as good as I've seen him play. Shane has the opportunity to learn from two great players in front of him along with Shaq [Barrett] and along with Dekoda [Watson] and [Vontarrius] Dora.
How do you plan for the absence of a guy like DeMarcus Ware? What guys have stepped up in his absence? 
Hey, you could lose somebody anytime. The next guy has to be ready to go. He missed a few games last year. We went ahead and played ball and guys have to step it up and play.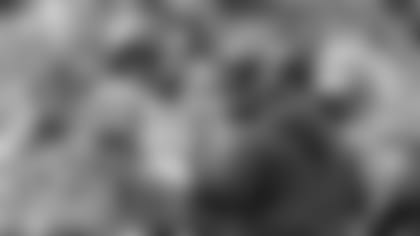 Von's talked a lot about the double-teams he's started to see this season. How do you factor for that and still have an effective pass rush?
Von's got to play what he sees. You have to react to what he gets. Football is a game of reaction. They're going to start the reaction and you go from there. He has to do to the best of his ability to get to the quarterback.
After spending 22 years coaching at Ohio State, what do you see from linebackers coming out of college now? What's the state of linebackers in college football?
They're good athletes, very good athletes. Obviously, the players are a lot more advanced now as far as speed and strength and things like that. Athletes are getting better and better.
After 38 years of coaching, you won a Super Bowl last season. What did that accomplishment mean to you?
It's the epitome of coaching. It's the pinnacle. It's what you strive for, hunt for and now, the only problem is you want the next one.
For you, was it any more special that it came off an incredible performance from one of your outside linebackers? No, it's just that we won. That's the key.