Tyler Polumbus is going out on top.
In a Facebook post Tuesday morning, the veteran of eight NFL seasons announced his retirement, ending a career that was one of the best in Colorado football history.
Polumbus is one of a handful of players -- including Dave Logan and Daniel Graham -- to play at the high-school, college and NFL levels for Colorado-based teams. He was a second-team All-Big 12 selection at Colorado in 2007, which was preceded by becoming a standout at Cherry Creek High School, just a few miles northwest of the UCHealth Training Center.
"When this journey began I was just hoping that I could make the team with extremely long odds in front of me as an undrafted rookie," Polumbus wrote in his Facebook message. "I thought it would be amazing to say that I played a season or two with the Denver Broncos. I never imagined that God would keep opening door after door for me to continue in this game."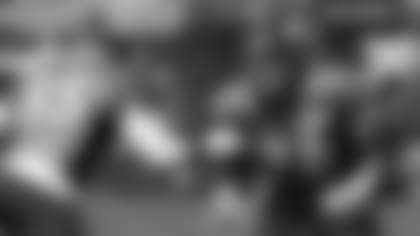 A zone-blocking specialist, Polumbus spent nearly his entire career in variations of the offensive-line scheme with the Broncos, Seahawks, Redskins and Falcons before rejoining the Broncos last October after injuries ransacked their tackle corps.
Polumbus saw rotational work at right and left tackle last season, with extensive work in the regular-season finale against San Diego after he entered the game in place of Michael Schofield.
Polumbus' entrance that day flew under the radar, since it coincided with Peyton Manning's return from a foot injury, but it was crucial in stabilizing the offense and allowing the Broncos to earn a comeback win that gave them the No. 1 seed.
Although Polumbus only played sparingly in the postseason, he continued to provide stable depth. Denver's 24-10 Super Bowl 50 win ensured that Polumbus was able to leave the NFL at its pinnacle -- and with a lifetime of memories for his family.
"My kids will probably never stop singing Hail to The Redskins, our ears will never stop ringing from [CenturyLink] Stadium in Seattle, and we will forever call Broncos Country home," he wrote.