ENGLEWOOD, Colo. --Before Trevor Siemian could be himself in a game that counted, he had to be Cam Newton.
On Super Sunday last February, Denver's defense successfully contained the 6-foot-5, 245-pound league MVP who blended size, speed and arm strength as no one else in NFL history has done before.
To get ready for that challenge, the defense practiced against a 6-foot-3, 220-pound rookie with no regular-season passes to his name who ran and threw and made decisions as though he was Newton himself.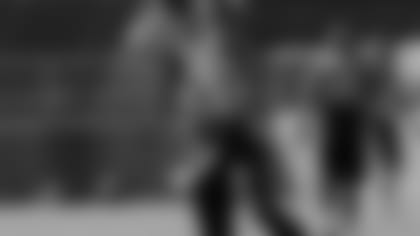 This is typical, of course. With rare exceptions -- such as Peyton Manning last December -- the scout-team quarterback lacks extensive regular-season experience and is not the same style as the quarterback he impersonates.
One week, you're an elusive quarterback who makes dazzling plays with his feet out of zone-read looks. The next, you're a traditional drop-back quarterback who only runs when necessary.
The scout-team quarterback is the game's ultimate shape-shifter. For much of last year, Denver's version was Siemian, who invoked one quarterback after another, doing all he could to prepare the defense while showing his own skills.
"I always knew he was pretty good," said cornerback Chris Harris Jr. "You always had to bring your A-game out there [against him]."
He did his job well enough to help get the defense ready for Ben Roethlisberger, Tom Brady and, finally, Newton during the Broncos' playoff run.
"It was tough," Siemian said. "They do a lot offensively and I'm nowhere near the athlete Cam is. I was just trying to do my best, run around and keep the defense busy."
During that week of practices at Stanford University, Siemian split the Cam-personation work with Brock Osweiler.
"We did our best to imitate Cam," Siemian recalled. "I think the defensive guys will tell you that it wasn't anywhere close."
"He didn't do well at all," said linebacker Brandon Marshall, laughing. "He didn't do a good job, but we've played mobile quarterbacks during the years and our defense is fast.
"We've got a lot of team speed so even if we didn't see it at practice, I wouldn't say that we need to, but when the game came, everybody was where they needed to be."
And ultimately, that is the task of the scout quarterback: to prepare the defense to be in the proper position. Sometimes that means forcing the ball into coverage; as Paxton Lynch noted two weeks ago, some of the interceptions he threw in practice as the scout-team quarterback were a result of wanting to give the defense the best look; those weren't decisions he necessarily would have made in the game.
And with Siemian now the starter, the job of impersonating Newton has passed to a new generation.