ENGLEWOOD, Colo. -- **Head Coach Gary Kubiak plans to start Trevor Siemian in Saturday's preseason game against the Los Angeles Rams.
Kubiak made the announcement at a press conference Monday afternoon, adding that he plans to decide on a Week 1 starting quarterback next week, before the final preseason game.
Siemian, Mark Sanchez and Paxton Lynch will all play against the Rams on Saturday, and Kubiak expects the repetitions to be equally distributed. However, he said he has not decided whether Sanchez or Lynch would immediately follow Siemian into action Saturday night.
"I've got to sit here and think about how much I'm going to play the starters. That will have a lot to do with how much I play [the quarterbacks]," Kubiak said.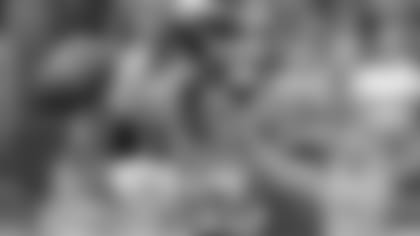 Kubiak said he isn't surprised that the competition has remained open this deep into the preseason.
"I expected it," he said. "We've got three quarterbacks, two of which weren't on this team last year, and one that has one regular-season snap (Siemian's kneel-down at Pittsburgh last Dec. 20). And I think to a credit to them in how well they've battled and pushed each other, it's down to the nitty-gritty here.
"We don't have to, but I'm going to make a decision next week and we're going to go to work. But they've all put themselves in position to go out there and have the opportunity to compete."
Siemian emerged from last Saturday's 31-24 loss with shoulder soreness. He hurt his shoulder while attempting to bring down San Francisco's Eric Reid before he crossed the goal line with a 42-yard interception return on the first play of the second quarter.
"I'm hoping that he's back at it ready to go tomorrow," Kubiak said. "He took a pretty good shot on it when he made that tackle."
And just because Siemian will make his second consecutive start does not mean the second-year quarterback necessarily has the lead in the competition.
"No, we continue with the competition," Kubiak said. "I think Trevor did a good job the other night. Obviously he has one play he'd like to have back, or it would have been as good as it could be. So I'm going to go back and give him a chance to do it again."
Siemian's interception was the result a "poor decision," Kubiak said.
"You're throwing a slant into quarters [coverage]. We've got to come flatter, but you should make the throw," Kubiak said. "It's just a decision with the ball, and putting yourself through it over and over again."
And while each quarterback was responsible for at least one giveaway apiece in the 31-24 loss to San Francisco, Kubiak did see positives from all of them.
"I'm proud of all three of them," Kubiak said. "They've worked their tails off. They've all done good stuff. Obviously we've got some mistakes that we've got to get rid of, but we've made some mistakes in the past, and you find a way to overcome them. That's part of football."
And no matter what happens, Kubiak said he does not plan to play all three quarterbacks in the preseason finale at Arizona on Sept. 1.