ENGLEWOOD, Colo. --Trevor Siemian did not practice Wednesday because of a left foot injury, and his status will be considered "day-to-day," Head Coach Gary Kubiak announced at a press conference that followed Wednesday's practice inside the Pat Bowlen Fieldhouse.
"He's got a foot sprain," Kubiak said. "We've got him in a boot right now ... Paxton [Lynch] and Austin [Davis] took all the reps, so he'll be day-to-day."
Kubiak said he believed the injury occured when Siemian was sacked in overtime before the Broncos took a 27-24 lead, but Siemian said he was uncertain when he suffered the injury.
"[It's a] little sore today. Nothing too crazy," Siemian said.
Siemian played another possession for the Broncos later in overtime.
"It's something that he came out of the game and very, very sore on Monday morning," Kubiak said. "[Swelled] up on him and 'Greek' [Head Athletic Trainer Steve Antonopulos] thought it was best to put him in a boot for a few days. He went in a boot [Tuesday] and we left him in here today. We'll see. It's a day-to-day process. We'll see how much ground he can make up."
Kubiak said Siemian was "very bright and on top of what we're doing," and could play in a game without practicing.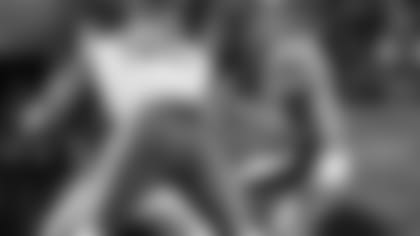 "[I'm] really not looking too far ahead," Siemian said. "[I] just kind of want to take it one day at a time, listen to Greek and put as much in each day [to] getting better as I can."
The injury is the second one suffered by Siemian this season. He sprained his left (non-throwing) shoulder in the second quarter of the Week 4 win over Tampa Bay and missed the rest of that game as well as the 23-16 loss to Atlanta one week later.
With Siemian injured, Lynch took the first-team repetitions at Wednesday's practice. Lynch relieved Siemian at Tampa Bay and started in his place against the Falcons before Siemian returned to action Oct. 13 at San Diego.
While filling in for Siemian, Lynch notched an 86.3 rating on 37-of-59 passing for 393 yards with two touchdowns and an interception.
The injury comes on the heels of arguably Siemian's best professional game to date, a 20-of-34, 368-yard, three-touchdown performance in the 30-27 overtime loss to the Kansas City Chiefs.
Siemian not only displayed deep touch and a willingness to throw downfield to Demaryius Thomas and Emmanuel Sanders in tight windows, but he made outstanding decisions as to when to run, gaining a career-high 23 yards on five carries. He said he's not worried about the possibility of his mobility being restricted in a game by the injury.
"If I can play, I don't think there's going to be any limitations on what I can do," Siemian said.
His scrambling also led to his first touchdown pass of the game, when he doubled back under pressure from Kansas City's Justin Houston to find Jordan Taylor for a 6-yard score.
"He played extremely well," Kubiak said Monday. "He made a lot of plays. He made a lot of plays with his feet."
Siemian's season-long quarterback rating of 89.2 ranks 11th of 64 quarterbacks since 2000 in their first season making at least 10 starts at age 25 or younger, according to pro-football-reference.com.