ENGLEWOOD, Colo. -- **With Demaryius Thomas signed to a five-year contract, the Broncos can breathe a sigh of relief. Their top two receivers are set, and the projected Thomas-Emmanuel Sanders starting duo is arguably the league's best, with Sanders' underneath quickness and straight-line speed serving as a perfect contrast to Thomas' size and physicality.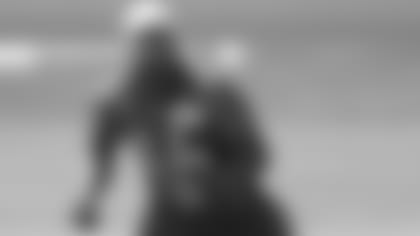 But there will be plenty of opportunities for the Broncos to use three-wide receiver formations when they see fit. That's where the camp intrigue begins, with a simple question: Is Cody Latimer ready to play extensively as one of the Broncos' top three receivers?
The 2014 second-round pick's rookie year was something of a washout. By his own admission, he struggled to learn the complicated offense. His practice opportunities with the first team were scant, preventing him from gaining any cohesion with quarterback Peyton Manning.
"It sounded like to me like he struggled a bit mentally keeping up and it held him back [last season]," Head Coach Gary Kubiak said during minicamp. "Anytime you're doing that it'll hold you back physically. But I think he's comfortable with what we are doing."
No player benefitted more from Thomas' absence during the offseason than Latimer. With the three-time Pro Bowler not under contract, Latimer got the repetitions with the first team that eluded him last year, and the progress was obvious.
"I'm really excited about what he can bring and I know he's a lot better now than when he started," Kubiak said. "I'm excited moving forward."
"He's a special player," Sanders added in April. "He has strong hands. He's a physical tool. I think that this is going to be the year that he jumps on to the map -- on to the scene. I think he's going to have a big year."
Latimer's development could be the dominant storyline for the wide receivers during training camp, as the Broncos need their second-round pick from last year to play up to that draft status. But it's not the only one to watch.
Let's take a further look at the wide receivers:
DEMARYIUS THOMAS: **Thomas said July 17 that he was at 222 pounds, which was six to seven pounds below his weight during the 2014 season. But after missing the offseason workouts and OTAs at Broncos headquarters, it will take a bit of time before he is up to speed.
"We can't just day one say 'GO', you know?" Kubiak said during minicamp. "We've got to have a plan in place and we will."
Part of that plan could involve getting Thomas work with backup quarterback Brock Osweiler. If Manning gets some training-camp rest days, as expected, then the Broncos could get a glimpse at a potential future on the days Osweiler throws passes to Thomas.
"I've been around him since I've been in the league. I know a lot about him. He's going to be great. He has a great quarterback in front of him. I just look forward to it," Thomas said. "Right now, it's Peyton, so we're going to worry about Peyton and once it's Brock's turn, we'll figure it out."
If Thomas plays out the five-year contract he signed last week, then most of it is likely to come with another quarterback firing passes. But Thomas proved he could succeed with Tim Tebow at quarterback in 2011. Thomas is one of those wide receivers who can rack up big numbers regardless of the quarterback, which is why he commanded such a massive contract.
EMMANUEL SANDERS: **After last year's breakout season and Pro Bowl appearance, Sanders enters this year knowing that the tweaked offense might mean fewer passes thrown his way. But Kubiak has guided offenses that boasted multiple 100-catch receivers, including the 2000 Broncos for which Ed McCaffrey caught 101 passes and Rod Smith 100.
The McCaffrey/Smith duo is one of just four 100-reception single-season duos in NFL history, along with the 1995 Lions (Brett Perriman and Herman Moore), the 2005 Cardinals (Anquan Boldin and Larry Fitzgerald) and the 2014 Broncos (Sanders and Demaryius Thomas).
So it's not as if Sanders' opportunities will definitely shrink. With the expectation that he will move into the slot when the Broncos utilize three-wide receiver formations, he should still see plenty of footballs.
Sanders handled the slot role in Pittsburgh, but with Wes Welker around last year, he stayed outside. Now he'll have to learn more with a dual role, but he's ready for that.
"When we go into our three-wide receiver package, I am going to move into the slot, which I'm very comfortable doing because I played the slot in Pittsburgh and a lot in college," he said in April. "I'm looking forward to that."
CODY LATIMER: **The first big step for Latimer this offseason came when Manning invited him to Duke University for his annual throwing sessions before the start of team-organized workouts.
"It gives you a big jump on everything," Latimer said during offseason work. "You come out in the offseason and you know you have a new offense, but you haven't seen anything about it. Just being at Duke and knowing the different types of routes, formations and things we were going to have was a big help."
Motivation will also help Latimer.
"You talk about a guy that came out with a rookie class last year, which is one of the best rookie classes of all time and they're not even mentioning his name," Sanders said during OTAs. "I think that he is just feeding off that energy alone.
ANDRE CALDWELL:Entering the final year of his second Broncos contract, Caldwell's experience in the NFL and with Manning is his differential advantage.
But how much better is Caldwell than the other wide receivers on the roster battling for backup spots? Can he work his way back into the mix on kickoff returns? And will his $1.55 million salary-cap figure for 2015 work against him if others prove equal to him? This is a crucial camp for Caldwell, and he must show that even though he's in his eighth NFL season, his ceiling remains higher than his younger competitors.
JORDAN NORWOOD: **Norwood looks completely healed from the torn anterior cruciate ligament he suffered during a joint practice with the Houston Texans last year. He did well during OTAs, running crisp routes and working his way back into the crowded field of candidates for punt-return duties.
If Norwood's training camp is as good as his offseason work, he should, at minimum, push Caldwell for a spot.
ISAIAH BURSE:This year is almost a reboot for Burse, who was the Broncos' punt returner last year until they brought Brandon McManus back to their 53-man roster to serve as a kickoff specialist, which claimed Burse's spot. He went to the practice squad and finished off the season, but has another chance this year.
Burse narrowly missed some breakaway returns last year; just getting one such runback in the preseason would help his cause. But he also needs to show development as a slot receiver. He picked Welker's brain during practices last year; now he needs to apply that wisdom.
SOLOMON PATTON:A May 12 waiver claim from the Buccaneers, Patton is in the mix on kickoffs and punts, and his work there last year with the Bucs made his appearance on the waiver wire a surprise.
Patton is the smallest and quickest wide receiver on the roster, but has a unique skill set. There is some Trindon Holliday-like potential with Patton, and he has the ability to see some spot use on offense. But he must be more explosive on returns than he was with the Bucs, and he must also take care of the football. If he does both, he could be the answer Kubiak and Special Teams Coordinator Joe DeCamillis seek on returns.
KYLE WILLIAMS:As with Patton and Burse, the impression Williams makes on special teams will be at least as important as what he does on offense if he is to stick around past the preseason finale.
Williams has career averages of 24.0 yards on kickoff returns and 8.1 yards on punt returns. But the biggest key for him is ball security. On 62 career punt and kickoff returns (including postseason), he's fumbled once every 15.5 opportunities.
NATHAN PALMER: **The most talented musician on the Broncos roster, Palmer is defined in the NFL by his dogged pursuit of a stable roster spot. This will be his fourth NFL training camp, but his first on a team with which he spent the previous year. Palmer hop-scotched from San Francisco to Indianapolis and Miami before landing on the Broncos' practice squad on Christmas Eve 2013. He's persistent and plays larger than his 5-foot-11, 198-pound frame, but needs an outstanding training camp -- and perhaps a big play or two in the preseason -- to land on the 53-man roster.
BENNIE FOWLER:Fowler caught five passes for 55 yards during last year's preseason, then spent the entire season on the practice squad. Fowler is one of the Broncos' bigger targets (212 pounds on a 6-foot-1 frame) and did a good job using his size to make catches in traffic. He can be a physical mismatch against many cornerbacks. The more he uses his frame to make difficult receptions, the better his chances of sticking into the regular season.
JORDAN TAYLOR:A nagging injury kept Taylor from taking part in all of OTAs and minicamp. But when he did practice, he made a massive impression and could be one of the breakout rookies of this year's class, catching multiple deep passes from Brock Osweiler and Zac Desert.
"He catches everything around him and he's gone up and made a couple plays on some deep balls, which have stood out," Manning said during minicamp.
DAVID PORTER:After taking part in the Dolphins' rookie camp on a tryout basis, the Broncos signed the TCU product on May 12. Porter caught a 46-yard touchdown pass during the East-West Shrine Game in January, and could be competing with for a practice-squad spot.