ENGLEWOOD, Colo. --The loss of third-round pick Jeff Heuerman to a torn anterior cruciate ligament dealt a blow to the Broncos' tight end depth. But with Owen Daniels, Virgil Green and James Casey leading the complement, the Broncos still appear to be in reliable hands as they reconstruct their tight end corps.
Daniels and Green appear locked in on the top two spots, and depending on the frequency at which the Broncos use certain personnel groups, could both end up with play counts that reflect being starters. It was appropriate that their contracts were finalized within 24 hours of each other in free agency, because the two are best viewed as a collective as the Broncos work to build a deep tight end complement after Julius Thomas left for the Jaguars and Jacob Tamme joined the Falcons in free agency.
Replacing a two-time Pro Bowler like Thomas isn't easy -- especially one who scored 24 touchdowns the last two years, becoming the club's most prolific pass-catching tight end since Shannon Sharpe. But by tweaking how the tight ends are used and building a deeper, more versatile group with Daniels, Green and April signee Casey, the Broncos hope they can get more out of the position, even without the marquee name at the top of the depth chart.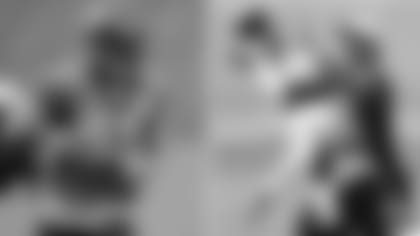 Daniels has experience in Head Coach Gary Kubiak's offense -- so much, in fact, that he has never played an NFL game without Kubiak on his team's coaching staff, since Kubiak's 2013 transient ischemic attack -- colloquially called a "mini-stroke" -- and later dismissal from the Texans came after Daniels was placed on injured reserve that year with a broken leg.
As a result, Daniels is more than just a tight end; he helps guide anyone who has questions about the offensive concepts and nomenclature Kubiak and fellow former Texans assistants Rick Dennison, Greg Knapp and Brian Pariani are installing.
"All the tight ends, and I'm pretty sure a lot of the guys on the team in general, look up to him, especially his leadership," Green said.
"I like that -- being able to kind of bridge the gap between what they were doing before here and what we've always done with coach Kubiak's offense," Daniels added during OTAs. "I know it's tough, it's got to be tough to learn something totally different than they've been doing the last few years. I'm happy to be in that teacher role."
But there is as much of the previous offense in this year's scheme mash-up as concepts of Kubiak's previous years -- and, of course, there's the process of getting in tune with quarterback Peyton Manning. That's where Green is valuable; with four previous seasons in Denver, he can help newcomers like Daniels, Casey and others get up to speed.
But a 10-year veteran like Daniels can help Green in more ways than just absorbing the scheme. In enduring for so long as a productive pass-catching tight end, Daniels is where Green wants to be.
"I ask him questions all the time. He's probably going to get sick of me," Green said during OTAs. "Just the little details about things; I understand the plays, but trying to understand the details about running routes and when to do certain things against the defender are questions that I ask him. He's more than willing to help."
The job description for Green and the other tight ends is a bit different than it was the last three seasons; there'll be a bit more blocking involved. That is exacerbated for at least two of the players in the position group; their responsibilities are likely to include fullback.
During OTAs, Casey and Joe Don Duncan worked extensively in the backfield. Casey has a background at the position, working in a similar hybrid role under Kubiak in Houston. Duncan is learning the position in his rookie campaign after passing through the 2014 draft process unselected and unsigned because of a broken foot suffered as he prepared for that year's Senior Bowl.
Having tight ends who can serve as fullbacks offers two benefits. It allows the Broncos to potentially save a roster spot for not only the final 53, but the 46 used on regular-season game days. It also permits the Broncos tactical flexibility while keeping the on-field personnel the same, so they can change formations and give an opposing defense different looks when they go into no-huddle, up-tempo mode.
Casey's background makes him ideal for that role; he can work as a tight end, H-back, fullback or even split out wide. And although his NFL reputation is built on his blocking, he caught 34 passes for the Texans in his last season under Kubiak's guidance (2012) and was a productive receiver at Rice University, so he has the skill set to make plays when given the chance.
A closer look at the tight ends: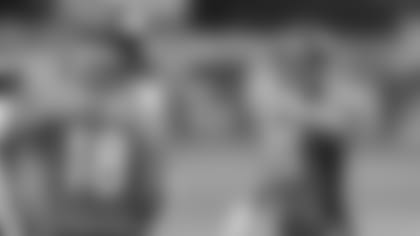 OWEN DANIELS:Steady and productive, Daniels has more receptions than all but eight tight ends since 2000, and quickly put the broken leg of 2013 behind him with a 48-catch, 527-yard season in Baltimore last year.
But he's in his 10th season and with the accumulated wear and tear, Kubiak will be judicious with Daniels' repetitions during training camp. Daniels had some respites during OTAs and minicamp, and that will continue in August.
"I have to be smart with him," Kubiak said. "I think I've learned a lot about him in the last few years and how to handle him and get the most out of him. So we'll kind of stick to our plan as we go into camp.
"But I also am very proud of him as a person. I knew as a person how important ball was to him and he's at a stage in his career where he's looking for the ultimate success. He's had some individual success and he's looking for the ultimate team success so it's great to have him here."
VIRGIL GREEN:Keeping Green softened the blow of losing Thomas. It also gave him a chance to build on the potential he showed in flashes, but rarely had a chance to sustain because of the presence of tight ends like Thomas, Tamme and Joel Dreessen over the years.
Daniels is around as a veteran, but Green knows it's his time. He went to Duke University in April to work out with Manning -- along with a group that also included Daniels -- so it's clear he has a prominent place. But the offense also suits Green's mentality well.
"You see tight ends have flourished throughout the last few years in his offense," Green said in March. "I understand how I'm going to earn my keep on this team, and at the end of the day for me, it's just tough, hard-nosed football. I know those other things will come to me, but at the end of the day I'm all about tough, hard-nosed football.
JAMES CASEY: **The likable, intelligent and versatile seven-year veteran turns 31 this year, but may just be entering his prime in working as a fullback. He got his first exposure to that position in Houston. It possesses a notoriously long learning curve, but Casey feels he's now getting the hang of it.
"I've experienced almost everything that you can see football-wise. A lot of it is just mentality, learning what things are about, how to be physical, how to finish plays and things like that. I think I'm best suited for it now," Casey said.
"I'm older in my career. The physical nature of the game as opposed to running around all over the place, when you're young it's awesome, but as you get a little bit older, you enjoy the blocking, doing your part and whatever you are responsible in the run game."
That is likely to be his primary role, but with his pass-catching ability, he also possesses the ball skills the Broncos want from a fullback -- and a tight end, as well. Casey is likely to be one of the busiest and most versatile Broncos this year.
JEFF HEUERMAN: **After tearing his ACL, he will spend the year rehabilitating and sitting in meetings so the mental aspect of his NFL transition can continue even as his on-field participation is on hold. Heuerman remains on the 90-man roster because of the league's rules regarding rookies and non-vested veterans; if the Broncos placed him on injured reserve before the first cut to 75 players, he would first be exposed to waivers for a day. In that case, he would almost certainly be claimed by some opportunistic team, as happened in 2010 when the Broncos tried to pass safety Josh Barrett through waivers to injured reserve, only to see the Patriots claim him. (The injured-reserve rules are intended to prevent teams from "stashing" young players, which was commonplace in the 1980s and early 1990s.)
DOMINIQUE JONES:Along with Green, Jones is the only holdover in the position group from last year. But Jones appears nothing like the 270-pound blocker that he was in a brief on-field cameo appearance and extensive time on the practice squad. After putting on 16 pounds early in the offseason, he lost it all during offseason workouts -- and then some, slimming back to 265 pounds.
Then Jones went out and became more active in the passing game during OTAs, giving him a chance to seize a roster spot.
"I'm really proud of him, he's worked hard and I think he's got a good chance to be a fine football player if he keeps his weight down and he's done that," Kubiak said during OTAs. "He's responded."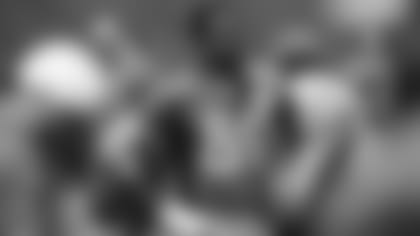 The potential is there; during OTAs, he used his range well, and caught almost anything thrown in his general direction. How well he refines his game -- particularly as a blocker -- and shows the versatility demanded of tight ends in this scheme will determine whether the May waiver claim can make a push for the 53-man roster.
JOE DON DUNCAN:Duncan is the wild card of the group, given his unusual route to the NFL via Division II Dixie State in Utah and his unusual blend of game-time speed, size (270 pounds) and power (35 bench-press repetitions at the 2014 Combine).
Duncan is one of the best athletes on the Broncos, and his film at Dixie State shows good athleticism and body control, an ability to adjust to the football in mid-flight, and a willingness to make catches in traffic. The questions revolve around the health of his foot and his performance against a much higher level of competition, but so far, he's made progress and if he doesn't stick on the 53-man roster, could be ideal to develop on the practice squad.